Workforce & Training Needs Committee
Expansion and retention of the New Mexico's healthcare workforce has been the subject of intense study by the UNM HSC, state agencies, and the State Legislature. It is considered to be a critical requirement toward addressing the improvement of healthcare delivery statewide. In addition, 32 of New Mexico's 33 counties are classified as Health Professional Shortage Areas (HPSA).
The charge to the Work Force and Training Needs Stakeholder Committee is to identify ways to expand the roles of indigenous and community-based health promotion and healthcare providers, to integrate this workforce into statewide public health, primary care, and behavioral health settings; as well as, to recommend strategies to improve recruitment and retention practices of all healthcare professional categories, especially primary care physicians and nurses at all levels. The Committee will develop a three-year Road Map with six-month increments for implementation of strategies.
Committee Meeting Minutes
---
Community Connectors/Community Health Workers Workgroup
No information available at this time.
---
Community Emergency Medical Systems Workgroup
No information available at this time.
---
Telehealth/Mobile Health Workgroup
Deliverables
Presentations
Maps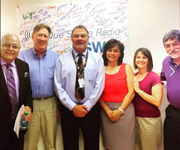 Media
---
Recruitment & Retention Workgroup
No information available at this time.
---
Project Funding
This project was supported by Funding Opportunity Number CMS-1G1-14-001 from the US Department of Health and Human Services (HHS), Centers for Medicare & Medicaid Services. The contents provided are solely the responsibility of the authors and do not necessarily represent the official views of HHS or any of its agencies.