Family Infant Toddler Interagency Coordinating Council
The Interagency Coordinating Council (ICC) is federally mandated under the Individuals with Disabilities Education Act (IDEA) Part C to advise and assist the Department of Health – Developmental Disabilities Supports Division in the administration of a statewide system of early intervention through the Family Infant Toddler (FIT) Program.  Please see the Interagency Coordinating Council: Relationship, Roles, and Responsibilities and Interagency Coordinating Council: Bylaws for more information.
---
Mission
To address the needs of families of infants and toddlers with or at risk for developmental delay, the New Mexico Interagency Coordinating Council (ICC) will advise and assist in the implementation of a coordinated and family-centered early childhood service system.
---
Strategic Plan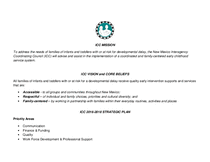 The ICC, in collaboration with the FIT Program, develops a 3-year strategic plan. The ICC forms committees to address the goals and action steps in the Interagency Coordinating Council: Strategic Plan 2019-2022 and progress is reported at ICC meetings.
---
Membership
Interagency Coordinating Council: Members are appointed by the Governor and includes at least 20% parents; 20% providers of early intervention; representatives of state agencies; and other stakeholders, as defined and required under IDEA Part C Regulations. Visit the Early Intervention Program for Infants and Toddlers with Disabilities Rule page to learn more.
---
Orientation
The following Interagency Coordinating Council: Member Orientation presentation provides an orientation to the ICC and their role as ICC members.
---
Meetings
The ICC holds four (4) public meetings per year in Albuquerque and Santa Fe and at least one meeting in another region of New Mexico. Meetings are open to the public and are held in accordance with the Open Meetings Act. Parents, providers and other stakeholders are encouraged to attend!
Schedule
2020
Minutes and Highlights
The following are the approved ICC meeting minutes, as well as ICC meeting highlights that provide a summary of action taken by the ICC.
2019
June
April
January
2018
November
May
April
January
2017
November
June
April
January
2016
November
June
April
January
2015
November
June
April
January
2014
November
July
April
January
2013
November
June
April
January
2012
November
June
April
January
2011
November
June
April
January