FIT Providers
The following information is essential for Family Infant Toddler (FIT) program providers.  Please see our FIT Providers List for a current index of provider agencies.
---
Essential Information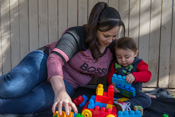 The FIT program utilizes the FIT Training & Resource Portal hosted at the UNM Early Childhood Network to make available FIT resources for providers.
---
Quality Assurance and Monitoring
The FIT Program monitors and audits FIT Provider agencies on a regular basis for compliance with state and Federal regulations and to ensure that billing is accurate.
---
Key Information Data System
The Family Infant Toddler Key Information Data System (FIT-KIDS) is the web-based data system that is used for management, planning, performance reporting and for the central billing system for the FIT program.
---
FIT Program Branding and Communications
---
FIT Program Logos
Logos Only

Logos with Contact Information