Autism Supports Training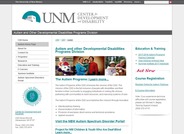 The Developmental Disabilities Supports Division (DDSD) funds and partners with the Autism Programs Division of the University of New Mexico (UNM) to provide an array of training and professional development opportunities to professionals working with individuals with Autism Spectrum Disorder (ASD) and to family members. Training is available both online, through workshops, and at an annual conference and summer institute.
Please visit the following links to learn more.
---
National Autism Training Resources
Please visit these valuable national training resources on autism.