Abuse, Neglect & Exploitation Provider Training
DHI has implemented a new ANE training process. The new training is a competency based curriculum utilizing a train the trainer model with standardized course materials to ensure consistency statewide. The key elements of the course include, community awareness and prevention, recognizing and identifying ANE, and reporting ANE.
---
Registration
For ANE online or face to face course visit: New Mexico Waiver Training Hub.
---
IMB-ANE Certified Trainers
The following videos, power point and training documents are provided to DHI-IMB certified trainers for their use when conducting training on ANE. Only DHI-IMB certified trainers may use these resources and in the manner as set forth by DHI.
NOTE: If you are not a certified trainer and would to become a certified trainer, please register for the next certification class at the Train - New Mexico website.
For more information about ANE training, contact ane.training@state.nm.us or visit the New Mexico Waiver Training Hub
---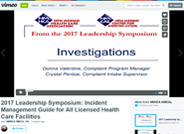 ANE Training for Licensed Healthcare Facilities
DHI has developed the following training for licensed healthcare facilities on the Reporting Requirements for all Licensed Healthcare Facilities.
Please view the Incident Management Guide for All Licensed Health Care Facilities Video page to watch the video.