Just for Teens
Have questions? The Stay Teen website has the answers about sex, relationships and your options. The video playlist below provides several public service announcements as well.
---
My Future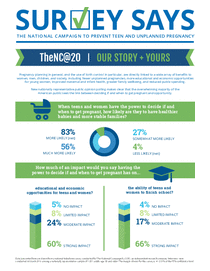 Pregnancy planning in general, and the use of birth control in particular, are directly linked to a wide array of benefits to women, men, children, and society, including fewer unplanned pregnancies, more educational and economic opportunities for young women, improved maternal and infant health, greater family wellbeing, and reduced public spending.
New nationally representative public opinion polling makes clear that the overwhelming majority of the American public sees the link between deciding if and when to get pregnant and opportunity.
Please visit the Pregnancy Survey web page to read the full report.
Something to Think About
Think about how being a mom or dad will fit in with your other goals in life. Be informed so you can take the best care possible of your health and stay true to your dream. Some questions to think about might be:
Do you want to go to college?
What career are you interested in?
Do you want to be in a relationship?
Do you want children someday? If so, how many and when?
Do you have a plan to prevent pregnancy?
What's your strategy? Abstinence or birth control? Discuss both with your clinician and your parents.
---
Frequently Asked Questions
What is a reproductive life plan?
A Reproductive Life Plan (RLP) is about deciding when (or if) you want to become a parent even if being a mom or a dad is years away for you. Your Plan includes things like college, a career, and goals to improve your personal health.
What advice should I give to a younger brother or sister about their future?
Please watch the video below to learn some helpful tips.
Who needs to know?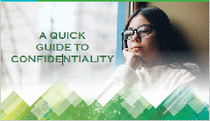 Please read the following bullet points about your rights.
In New Mexico, you can consent to any reproductive health service or procedure without your parents' permission, even if you are under 18.
What should I expect at the clinic?
You can expect the following from a visit to the clinic.
We will discuss your health and plan to have or not have children.
We will help you decide what birth control choices are best for you if you are not ready to have children.
The nurse will answer questions about birth control methods, the physical exam, STIs and lab tests.
You will learn how different birth control methods work and their benefits and risks.
What kind of clinical exam will I get?
If needed, you may receive the following exams:
A physical exam.
Pregnancy testing.
Laboratory tests including Pap smear, urine and/or blood tests for STI.
What happens next?
You can ask the nurse any questions you have.
---
Learn More
We invite you to take a look at the Birth Control Methods Poster as well as the Birth Control Explorer web page to learn about the various birth control options available.
The clinic locator to the right allows you to search by city/state or zip code to find family planning services near you that offers low-cost or no-cost birth control options. If you can't find a clinic, or can't find the answer to your question, call 505-476-8882.
Please visit our Health Data page for informative statistics and infographics on teen birth.