New DDSD Director Eager to Improve Experience for Individuals with IDD
---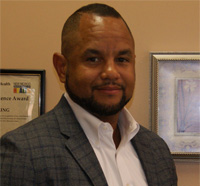 The new Director of the Developmental Disabilities Supports Division (DDSD) Jason Cornwell is determined to make meaningful changes for individuals with Intellectual Developmental Disabilities (IDD) in New Mexico. This includes changing how the average person thinks about people with disabilities.
"The public tends to think about disability on the more severe end of the spectrum," Cornwell said. "We want to change that perception—people with disabilities are just like us—they have jobs, drive cars, and vote."
Cornwell earned a master's degree in Guidance and Rehabilitation from Columbia University and a BA from New Mexico State University. While at NMSU, he worked his way through college as a Certified Nursing Assistant and Home Health Aide. The New Orleans native considers New Mexico home, as he moved to Las Cruces with his family at age 13 and was part of the first four-year class to graduate from Oñate High School.
The married father of twin girls (Abigail and Harper) took over as DDSD Director in June and has served the New Mexico Department of Health since 2015 in four capacities: Health Care Surveyor (Division Health Improvement), Regional Assistant Director for Metro DDSD, Chief Operations Officer for the Los Lunas Community Program, and now Director of DDSD in Santa Fe. In addition, he has experience in Home and Community Based Services (HCBS) in New York, Texas, Indiana, and Illinois. DDSD benefits from this vast experience, as the need for change is clear.
"Disability is not a partisan issue, everyone knows or will know someone with a disability," he said.
To improve the DDSD experience for individuals, Cornwell believes the public must understand the challenges people with disabilities face. DDSD is already on the right track. In 2017, they developed the campaign: Know Your Rights! Staff traveled around the state interviewing individuals with disabilities to get their perspective. Those in the IDD community took time to share their stories and make their voices heard. The Know Your Rights! campaign is ongoing, and Cornwell believes those stories shape public perception in a positive way.
"Disabilities cross every societal matrix, and we are here to level the playing field," Cornwell said.
The way forward for DDSD is focusing on the individual's needs. This means looking into services, such as "aging in place" options for elder care and emerging technologies that allow individuals to have autonomy and independence, such as sensors that would alert caregivers if the stove was left on during the night. This also means getting buy-in at every level - from family, friends, legislatures, and providers.
The challenges ahead don't phase Cornwell who has the energy and drive to get the job done. Becoming a person-centered organization will take time, but DDSD is moving in the right direction and will push the model forward by allowing individuals with disabilities more options with their care. Cornwell and his team are ready to partner with all stakeholders to make New Mexico a national leader in the provision of services for people with IDD, their families, and the dedicated professionals who serve them.
"Disability Rights are Civil Rights," Cornwell said. "Disability is not disadvantage!"
---
Versión en Español
En un esfuerzo para hacer que nuestros comunicados de prensa sean más accesibles, también tenemos disponibles una versión en español. Por favor presione el enlace de abajo para acceder a la traducción.
Nuevo Director DDSD Deseoso de Mejorar la Experiencia para los Individuos con IDD