ALERT: 5 Important Ways to Prevent West Nile and Other Mosquito-Borne Illnesses
---
ALERT: 5 Important Ways to Prevent West Nile and Other Mosquito-Borne Illnesses
West Nile Virus has been reported in New Mexico, and a woman in Doña Ana County was recently hospitalized for the disease. Cases of West Nile Virus in New Mexico have occurred every year since 2003. Infections in humans occur seasonally, with the peak of cases in late summer and early fall.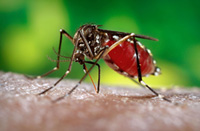 Know the Facts: West Nile Virus (WNV) is a mosquito-borne disease that was first seen in North America in 1999. The most serious manifestation of West Nile Virus infection is fatal encephalitis (inflammation of the brain) in humans and horses. The virus has also been found in domestic and wild birds.
Most people who contract the disease don't get sick, but an estimated twenty percent develop a fever and other symptoms. Less than one percent of infected people develop serious and sometimes fatal neurological illnesses. People 50 years and older are the most at risk, but infection can occur at any age.
See your doctor if you have the following symptoms: fever, nausea, headache, and muscular aches. These symptoms develop 2 to 14 days after a mosquito bite. Because there are no vaccines available, prevention is the best medicine. Your health is important to us here at the Department of Health. Follow these tips indoors and out, and you'll have a better chance than ever to fight the bite in New Mexico.
Prevention is the best medicine. NMDOH's Zoonotic Disease Team expert, Elizabeth VinHatton explains these best practices for prevention:
Use EPA-approved insect repellant.Whenever you go outside, use an EPA-approved repellant that contains DEET, picaridin, IR3535, and oil of lemon eucalyptus/para-menthane-diol. Find the right repellant for you..
Stay inside at dawn and dusk. Mosquitoes that carry West Nile virus and other nuisance species prefer the early morning and evening. To prevent exposure, stay inside during those hours.
Wear long, loose, and light-colored clothing if you must be outside during dusk and dawn. Here is why: Mosquitoes use heat, scent, and sight to locate prey (us) and some studies suggest that they can see dark objects more easily than light colors. Add another layer of protection and wear light-colored clothes that cover you from head-to-toe.
Use screens on windows and doors. Mosquitoes love to sneak into your home through gaps in windows and doors. If you open those doors and windows, ensure that your screens are sealed tight.
Empty or eliminate standing water such as tires, flower pots and buckets. Mosquitoes lay their eggs in water. Help prevent the spread of West Nile by emptying any containers such as birdbaths, wading pools, pet water bowls, and all areas that contains standing water.
Keep in mind that New Mexico has about 60 different mosquito species and those that transmit Dengue, Chikungunya, and Zika viruses are active throughout the day though they are mostly present in the southern part of the state: see NMDOH map on our website.
---
Versión en Español
En un esfuerzo para hacer que nuestros comunicados de prensa sean más accesibles, también tenemos disponibles una versión en español. Por favor presione el enlace de abajo para acceder a la traducción.
ALERTA: 5 Formas Importantes para Evitar el Nilo Occidental y Otras Enfermedades Causadas por Mosquitos