Office of Health Equity
The Office of Health Equity (OHE) is committed to improving the health of all diverse communities in New Mexico and raising awareness of health disparities through collaboration, education and advocacy.
OHE promotes health for all New Mexicans, through key efforts such as raising awareness of health disparities, mobilizing communities, increasing capacity, focusing resources on underserved populations, partnering to prevent disease, and educating the health care and public health work force on delivering culturally sensitive services.
What are Health Disparities?
Health disparities refer to differences in the quality of health and health care that exist among specific population groups. 2015 marked the 30th anniversary of the Report of the Secretary's Task Force on Black and Minority Health (Heckler Report), a landmark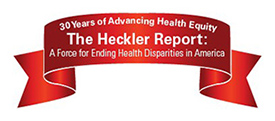 report that resulted from the first meeting of a group of health experts to conduct a comprehensive study of racial and ethnic minority health. The Heckler Report mobilized the movement to eliminate health disparities.
While there have been great improvements in health and health equity since the Heckler Report was issued, racial and ethnic minorities still face significant disparities in burden of chronic disease, access to care, insurance coverage, and health outcomes, among other things. Health disparities also exist among the LGBT population, between genders, among older adults, and those living with disabilities.
Some of the health challenges specific to New Mexico include:
Teen pregnancy rates among Hispanics or Latinos continues to be higher than for any other racial or ethnic group.
Diabetes death rates, and youth and adult obesity rates are highest among American Indians. These rates are also high among Blacks or African Americans and Hispanics.
Tobacco use is substantially higher among those with low incomes.
Male rates of suicide are three to five times that of females.
Infant mortality is highest among Blacks or African Americans.
LGBT individuals are more likely to suffer from depression or anxiety, and are more likely to have attempted suicide.
Older adults (65+) have higher rates of fall-related deaths compared to the rest of the US
Most of New Mexico's counties are considered Health Professional Shortage Areas.
The Office of Health Equity has taken an active role in addressing health disparities by collaborating with key partners to address disparities having the greatest impact on New Mexicans. Through our efforts we strive to promote health and wellness, improve health outcomes and ensure safety net services for all people in New Mexico.
What are some of the key projects of the Office of Health Equity?
The Office of Health Equity engages in a few key activities to support its mission and the mission of the Department of Health. These activities include:
Workforce training and development, including Spanish and Navajo medical interpreting, a Public Health Spanish course, and cultural competency training.
Cultural and linguistic competence policy assessment.
Health promotion and awareness activities.
Translation and interpretation services.
---
News Articles
Latest
---
Publications
Featured
Latest
Popular
---
Resources
Featured
Latest
Popular
---
Addressing the Health Needs of Sex and Gender Minorities in New Mexico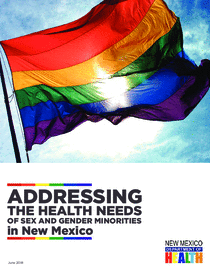 Sexual and gender minority populations, including lesbian, gay, bisexual, transgender, and queer people, experience disparities in physical and mental health, as well as access to and use of health services. This report explores existing disparities and suggests steps to improve the health of New Mexico's SGM citizens.
See the following for additional information on this topic:
---
Health Equity in New Mexico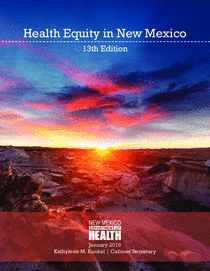 The purpose of this report (formerly the Racial and Ethnic Health Disparities Report) is to identify important health disparities in New Mexico so that diverse organizations and agencies, including the Department of Health, can design and implement evidence-based interventions to improve health equity.
---
American Indian Health Equity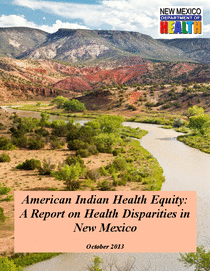 Since 2008, the Department has also published a special edition of the report that focuses on American Indian Health in the hope that public and private partners will join us in identifying the factors that contribute to the disproportionate burden of disease experienced by American Indians in New Mexico. The report also helps us identify successful strategies to reduce this burden.
---
Cultural and Linguistic Competence Policy Assessment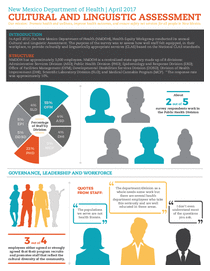 The New Mexico Department of Health conducted the Cultural Linguistic Competency Assessment 2017 to:
Evaluate the Department's social, cultural, and linguistic competence.
Study the factors that can help, improve, or block the success of the NMDOH service delivery system.
Create a baseline of what employees know about the Department's policies, procedures, and practices.
The results of the assessment will support NMDOH on: a) improving health care access and utilization; b) enhancing the quality of services provided to New Mexico's culturally diverse and underserved communities; and, c) promoting cultural and linguistic competence as essential approaches in the elimination of health disparities in New Mexico.
Please see the Cultural Linguistic Competency Assessment 2017 Infographic for the results of the 2017 Cultural and Linguistic Assessment.