Family Planning Program

The New Mexico Title X Family Planning Program (FPP) is proud to support all New Mexicans with their reproductive goals and needs. The FPP offers a broad range of low- or no-cost family planning clinical and related health services as well as community-based programming for teens such as service learning and positive youth development. All services are voluntary.
NOTE TO CLINICAL STAFF: For our protocol, forms, and training information, please visit the Providers section of our website. Thank you!
---
TITLE X
The Title X Family Planning Program was enacted in 1970 as Title X of the Public Health Service Act (91-572) for population research and voluntary family planning programs.
Family planning centers play a critical role in ensuring access to low- or no-cost, voluntary family planning information and services.

All family planning services are client-centered, culturally and linguistically appropriate, inclusive, and trauma-informed.
Family planning services are equitable and provide all persons the opportunity to attain their full health potential and no one is disadvantaged from achieving this potential because of social position or other socially determined circumstances.
Family planning clinical services that offer access to confidential services at low or no cost; increased access to most and moderately effective contraceptive methods; and telemedicine services to increase access to birth control for high-risk populations in areas with clinician shortages.
---
FAMILY PLANNING CLINICAL SERVICES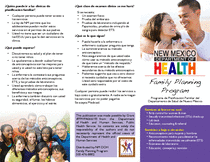 Anyone of reproductive age may go to a FPP clinic for low- or no-cost family planning services.
New Mexico state law allows teens to receive these services without a parent's permission.
You do not need to be a US citizen to get clinical services.
To find a clinic close to you, use the "Find a Family Planning Clinic" locator on the left of the screen. Services are provided through state-wide NMDOH Public Health Offices and contracted clinical sites Clinic Locator | HHS Office of Population Affair}.
---
FAMILY PLANNING EDUCATIONAL PROGRAMMING
Service learning and positive youth development programming is offered across New Mexico in counties with documented need and high teen birth rates. This programming promotes positive outcomes for teens by providing meaningful service to develop and practice life skills. Through community engagement and positive relationships, teens develop self-efficacy and adopt healthy behaviors enabling them to reach their full developmental potential.
Adult-teen communication programs, like From Playground to Prom, give the parents or guardians of the teens in the service learning/positive youth development programming information and skills to communicate effectively with young people about reducing risky sexual behavior.