Asthma Control Program
The New Mexico Asthma Control Program (NMACP) resides in the New Mexico Department of Health in the Environmental Health Epidemiology Bureau. The NMACP is funded by a 5-year (2014-2019) cooperative agreement with the Centers for Disease Control and Prevention (CDC) National Center for Environmental Health to develop strategies together with communities and health systems to improve and expand the reach of comprehensive asthma control services.
---
Promote
Promote data and resource sharing, communication, and evaluation of comprehensive asthma control services.
Work with key stakeholders to enhance statewide asthma surveillance systems and expand comprehensive asthma control services.
Share newest asthma data through presentations, publications, face-to-face community engagement, the internet and other media platforms.
Evaluate program and partner activities for continuous improvement.
Develop
Develop & strengthen Health Services Strategies to improve access to comprehensive asthma control services.
Provide asthma self-management education services to children and their families at clinics.
Engage Spanish-speaking parents of children with asthma to learn about their barriers in accessing asthma care.
Work with the Chronic Disease Prevention Council and New Mexico Council on Asthma (NMCOA) to inform stakeholders about guidelines-based care and evidence-based policies for schools.
Support
Support Health Systems Strategies statewide to improve asthma care and coverage of comprehensive asthma services.
Partner with university programs to develop evidence-based quality improvement interventions to help guide and support health care providers and staff at their health care practices.
Partner with non-profits and state programs in developing effective, culturally responsive training programs for CHWs as they work with asthma patients in their homes.
Partner with School-Based Health Center (SBHC) managers to develop a school based asthma care model centered on the National Asthma Guidelines' best practices to be used at SBHCs to improve care coordination for children with asthma.
Partner with health care systems and service providers to improve coordination of care and provide payer coverage for comprehensive asthma control services.
---
Healthy Homes for Families with Asthma
This
Healthy Homes for Families with Asthma Video was created to be used by Community Health Workers/Community Health Representatives (CHW/CHR) as they work with asthma patients and families to more effectively control asthma symptoms and reduce environmental asthma triggers in the home. It addresses the Seven Principles of Healthy Homes from the National Center for Healthy Housing and discusses asthma action plans and medication devices to better control asthma.
---
Asthma in Hispanic Children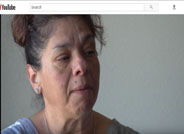 The Asthma Control Program partnered with Nuestra Salud to implement a series of community meetings to increase understanding about asthma care and control among Spanish speaking Hispanic families who have children with asthma, using the photovoice method.
---
External Resources
The Community Guide: Evidence Based Approach
Centers for Disease Control
Environmental Protection Agency
National Heart, Lung & Blood Institute
University of New Mexico
Associations
---
Recent Activity
Featured
Latest
Popular