Los Lunas Community Program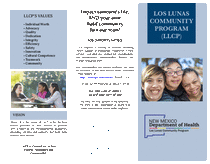 The Los Lunas Community Program (LLCP) provides support and services through the Developmental Disabilities Waiver (DDW) to individuals who reside in Valencia, Socorro, Torrance and Bernalillo counties and provides technical assistance throughout the state.
Services
Supported living, which allows persons with developmental disabilities and significant medical and/or behavioral challenges to live with roommates; supported employment, which helps participants find and maintain employment; and community membership and volunteerism opportunities, which give participants the chance to enhance interests and hobbies while developing friendships with other people in the community.
Wheelchair Evaluations
A specialized wheelchair evaluation and custom seating clinic assists New Mexicans with developmental disabilities to get a specialized wheelchair and/or custom seating system.
Dental Clinic
The LLCP dental clinic is unique in New Mexico because it specializes in serving people with developmental disabilities.
---
Recent Activity
Latest
Latest