Sexually Transmitted Diseases Program
The New Mexico Sexually Transmitted Diseases (STD) Prevention Program has as its primary goal the reduction and prevention of the incidence of sexually transmitted diseases including HIV infection.
The STD Program provides statewide consultation and technical assistance, partner services, screening, surveillance, health care provider education, case management, and partner notification for reportable STDs in the state.
---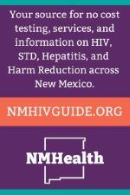 Resource Guide
To find a STD testing or treatment program near you, visit our HIV/STD/Hepatitis Resource Guide.
This valuable community based website offering resources and information about services related to HIV, STDs, Viral Hepatitis, and Harm Reduction.
It features a searchable guide that will help you find the best and most appropriate services in your area.
---
Recent Activity
Featured
Latest
Popular
Featured
Latest
Latest
Popular
---
Public Health Offices
You can also find a Public Health Office near you that provides screening and treatments services such as:
Free, confidential examination and treatment for sexually transmitted diseases. (STD)
Confidential counseling and treatment of contacts (partners) to persons with STDs.
Free, anonymous testing and counseling for HIV.
Syringe exchange program for injection drug users.
Confidential counseling, teaching and prescribing for birth control and emergency contraception. (Plan B)
Minors do not need parental consent to receive services in the clinic
---
Expedited Partner Treatment
The New Mexico Medical Board amended the Medical Practice Act to allow health professionals to offer Expedited Partner Treatment (EPT) to partners of patients with STDs under guidelines developed by the New Mexico Department of Health (NMDOH).
EPT is a mechanism for providers to treat patients with whom they have not established a therapeutic relationship, in order to prevent re-infection of an index patient. Heterosexual patients with uncomplicated gonorrhea or chlamydia have lower rates of re-infection when their sexual partners are provided with EPT, according to published research supported by the Centers for Disease Control and Prevention (CDC).
Providers
---
Notifiable Conditions
The following STDs are notifiable conditions:
Chancroid
Chlamydia
Gonorrhea
Syphilis
Who is Required to Report?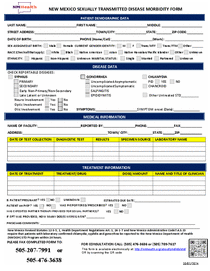 All STD cases diagnosed or treated in New Mexico are required by law to be reported to the STD Program in Santa Fe by using the STD Case Reporting Form.
Additionally, any medical laboratory anywhere in the United States performing testing for New Mexico must report positive results to the New Mexico STD Program in Santa Fe. This includes all clinicians seeing patients, laboratories doing testing, and administrators or Infection Control Staff at any medical facility. Medical facilities include all Private, Public, Tribal, Indian Health Service, Military, Veteran's Affairs, Employee Health, Detention Centers, Jails, Prisons, and all other Medical Clinics, Hospitals, Emergency Wards or Urgent Care Centers.
---
Reports & Data
Sexually Transmitted Diseases