Adult Viral Hepatitis Prevention Program
EndHepC-NM: Eliminating Hepatitis C Virus in New Mexico by 2030
The Hepatitis Program works both in prevention and to serve those living with adult viral hepatitis, including hepatitis B virus (HBV) and hepatitis C virus (HCV).
---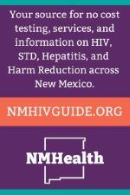 Resource Guide
To find a hepatitis testing, vaccine or treatment program near you, visit our HIV/STD/Hepatitis Resource Guide.
This valuable community based website offering resources and information about services related to HIV, STDs, Viral Hepatitis, and Harm Reduction.
It features a searchable guide that will help you find the best and most appropriate services in your area.
---
Recent Activity
Latest
Popular
Featured
Latest
Popular
Latest
Popular
---
Free Hepatitis A & B Immunization
We offer free hepatitis A and B immunization to the following high risk adults:
Persons who are current injection drug users and their sexual contacts
Men who have sex with men and their sexual contacts
Persons living with hepatitis C
Persons living with HIV/AIDS
Persons living with chronic hepatitis B
Persons from endemic areas
Heterosexuals with more than one sex partner in the last six months
Persons diagnosed with a sexually transmitted disease
Household and sexual contacts of people infected with hepatitis B
---
Perinatal Hepatitis B
Please visit the Perinatal Hepatitis B Prevention section of our website.
---
Learn More
Videos
Resources