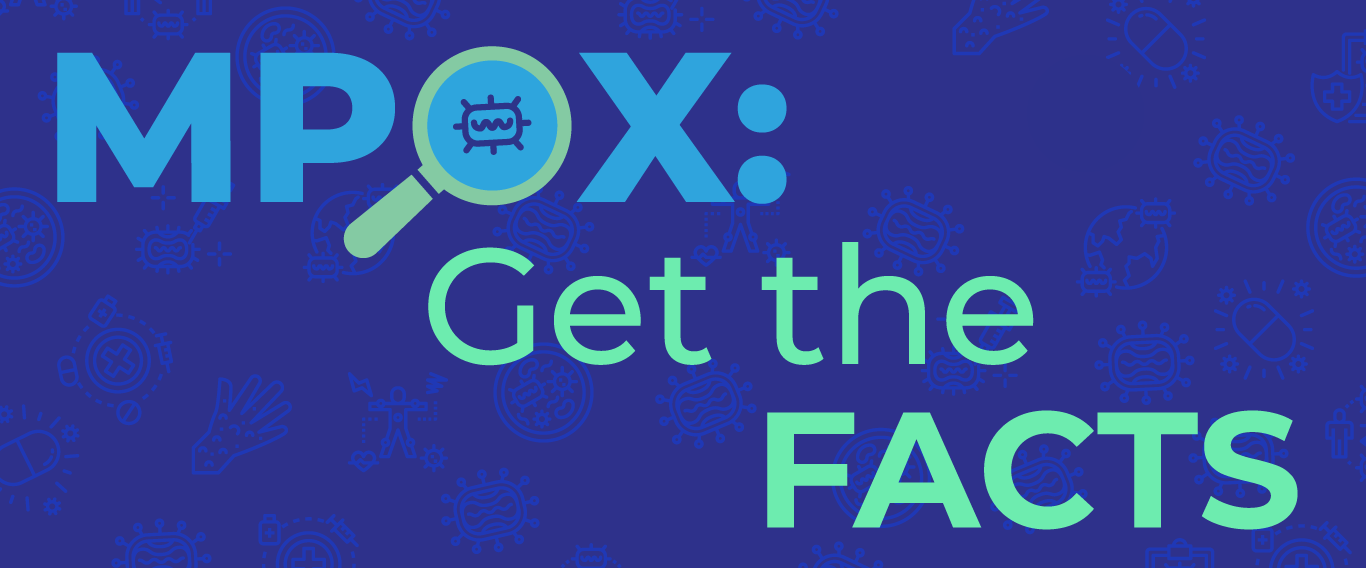 Monkeypox Virus
Overview
Monkeypox is a rare disease caused by infection with the monkeypox virus. It was first discovered in 1958 when there were two outbreaks of a pox-like disease in colonies of monkeys kept for research. The first human case was in 1970. Prior to 2022, nearly all U.S. cases were related to international travel.
Please refer to the CDC - Monkeypox 2022 U.S. Map & Case Count for current New Mexico and national case counts.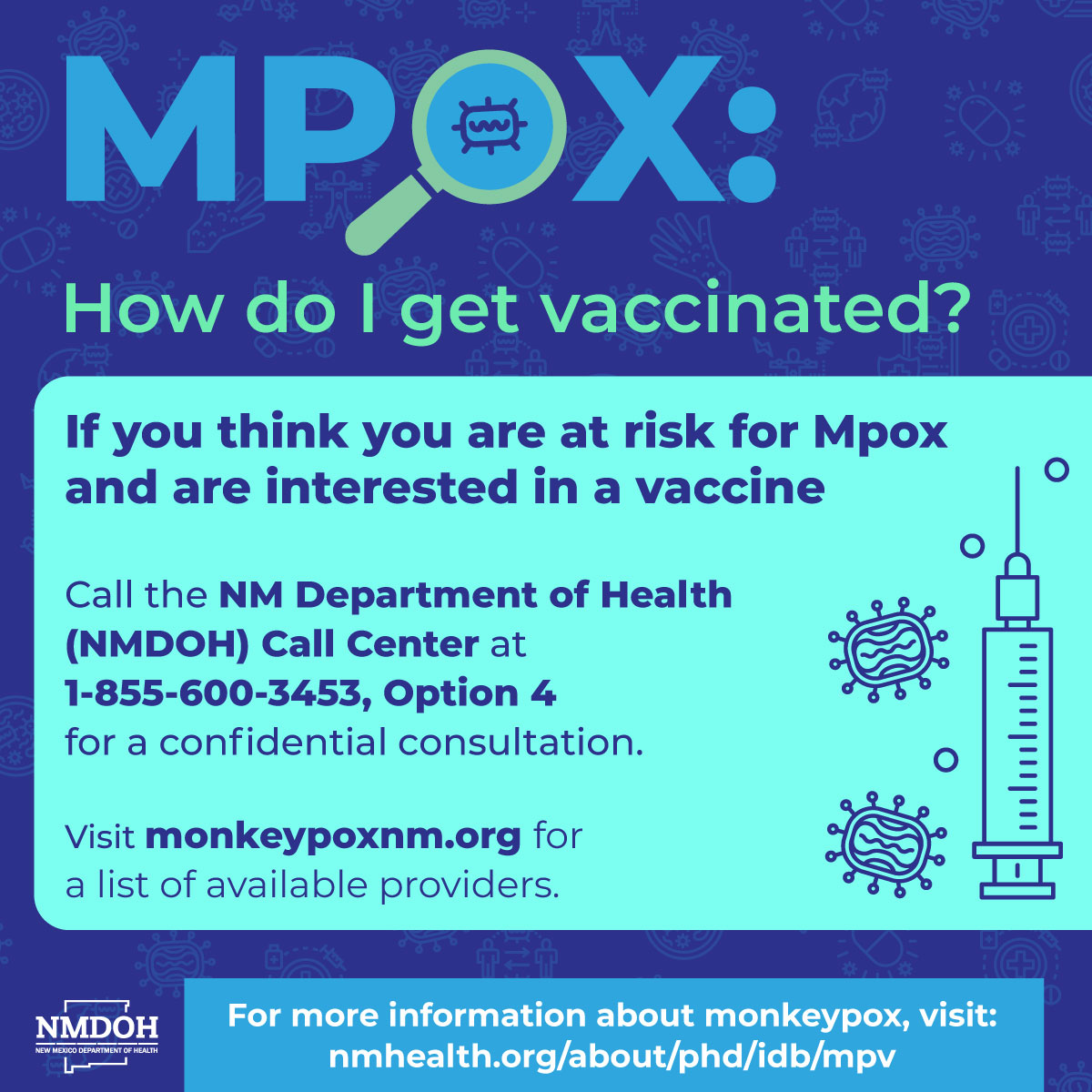 At this time, the Department of Health will not be releasing any identifiable data to protect sensitive patient health information from being disclosed without the patient's consent or knowledge. For more information, please see New Mexico's Rule for Small Numbers and Public Data Release and the federal Health Insurance Portability and Accountability Act (HIPAA)
How Do I Get Vaccinated
If you think you are at risk for Monkeypox and are interested in a vaccine, call the NM Department of Health (NMDOH) Call Center at 1-855-600-3453, Option 4 for a confidential consultation.
If you are eligible, NMDOH will register you over the phone and you will be invited to schedule for vaccines as soon as they become available.
The call center is open daily. You can reach us on weekdays from 7:30 am to 7:30 pm, and on Saturday/Sunday from 10:30 to 3:30.
Infographics
---
Signs and Symptoms
Monkeypox is a rare disease caused by infection with the monkeypox virus. Monkeypox virus is part of the same family of viruses as smallpox. Monkeypox symptoms are similar to smallpox symptoms, but milder; and monkeypox is rarely fatal. Monkeypox is not related to chickenpox. Symptoms of monkeypox can include:
Fever
Headache
Muscle aches and backache
Swollen lymph nodes
Chills
Exhaustion
A rash that can look like pimples or blisters that appears on the face, inside the mouth, and on other parts of the body, like the hands, feet, chest, genitals, or anus.
The rash goes through different stages before healing completely. The illness typically lasts 2-4 weeks.
Sometimes, people get a rash first, followed by other symptoms. Others only experience a rash.
Monkeypox can look like a lot of other diseases, such as syphilis. You can find free syphilis and other STD testing here: HIV Hepatitis STD Online Resource Guide
---
What Do I Do If I Think I Might Have Been Exposed
You should seek medical guidance from your health care provider if you:
Had contact with someone who had a rash that looks like monkeypox or someone who was diagnosed with confirmed or probable monkeypox
Had skin-to-skin contact with someone in a social network experiencing monkeypox activity, sexually active individuals who meet partners through an online website, digital application ("app"), or social event (e.g., a bar or party)
Traveled outside the US to a country with confirmed cases of monkeypox or where monkeypox activity has been ongoing
Had contact with a dead or live wild animal or exotic pet that exists only in Africa or used a product derived from such animals (e.g., game meat, creams, lotions, powders, etc.)
You can learn more on this page from the CDC: CDC - Monkeypox Signs & Symptoms
What should a person do if they have a new or unexplained rash, sores, or other symptoms?
Avoid sex or being intimate with anyone until you have been checked out by a healthcare provider. If you don't have a provider or health insurance, visit a public health clinic near you.
When you see a healthcare provider, remind them that this virus is circulating in the area.
Avoid gatherings, especially if they involve close, personal, skin-to-skin contact.
Do not share items that could come in contact with the rash or lesions (e.g., bed linens, clothing, towels, wash cloths). Do not share drinking glasses or eating utensils.
Think about the people you have had close, personal, or sexual contact within the last 21 days, including people you met through dating apps. You might be asked to share this information if you have received a monkeypox diagnosis, to help stop the spread.
Information For Health Care Professionals
CDC has information for health care professionals, including the case definition and clinical guidance. See information here: CDC - Monkeypox Information for Healthcare Professionals
In New Mexico, it is essential to report any suspect, probable or confirmed cases. Call the NMDOH Epidemiology and Response Division (ERD) 24/7 call line at 505-827-0006 for questions about:
Who to test
How to test
Where to send specimens
Management of suspected or confirmed cases
Specific directions are in these Health Action Alerts:
You can find the status report from CDC here, including current case counts by state: CDC - U.S. Monkeypox Outbreak 2022 Situation Summary
Infographics