Smoke Exposure a Hazard During Fire Season
---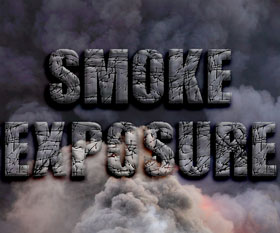 Summer is here, and we are facing another year of drought.
More than 80-percent of the western United States in a drought. According to the US Department of Agriculture, New Mexico is its fourth consecutive year of drought following one of the driest winters on record.
It's a pretty grim picture all around for all of New Mexico's humans and animals – let alone farmers and firefighters, but they are the ones who feel this drought more than anyone. As the income from farmers has fallen sharply over the last five years, the number of acres burned by wildfires has risen. There's been few wildfires so far this season. The most recent of note being the Assayii Lake Fire along the McKinley/San Juan county line in northwest New Mexico.
When wildfires happen, both the New Mexico Department of Health and Environment Department track the fires, advising residents in areas affected by fire how to reduce the risk to themselves and their families from smoke exposure.
The Department of Health Environmental Public Health Tracking - Fire and Smoke website has information to help you protect your health and plan your actions during emergencies.
---
5-3-1 Visibility Method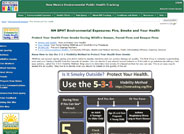 Visibility is an easy way to decide if it's okay to go outside. Use the 5-3-1 Visibility Method to determine your smoke exposure depending on what you see. Here's how it works:
5
Can you see just under 5 miles? If so, the air quality is unhealthy for young children, adults over age 65, pregnant women, and people with heart and/or lung disease, asthma or other respiratory illness; they should minimize outdoor activity. These people should reschedule outdoor recreational activities for a day with better air quality. It is okay for adults in good health to be out and about but they should periodically check visibility especially when fires are nearby.
3
If you can see less than 3 miles, young children, adults over age 65, pregnant women, and people with heart and/or lung disease, asthma or other respiratory illness should stay indoors. All outdoor activities should be avoided, including running errands. Everyone else should try to stay indoors as much as possible. All outdoor recreational activities should be rescheduled for a day with better air quality.
1
If you can see less than 1 mile, everyone should avoid outdoor activity, including running errands. Unless an evacuation has been issued, you should stay inside your home or in a safe shelter.
---
Regardless of the visibility, if you are feeling as though you are having health problems from smoke, take precautions to avoid breathing in smoke and see your doctor or other health professional as needed.
Smoke can cause:
Coughing
A scratchy throat
Irritated sinuses
Shortness of breath
Chest pain
Headaches
Stinging eyes
A runny nose
People with heart or lung disease, such as congestive heart failure, angina, COPD, emphysema, or asthma, need to be aware that they may be at higher risk for experiencing health problems than those without these conditions.
So in the months ahead as we continue through fire season, keep up with the news – watch out for health warnings about smoke. When you are advised to stay indoors, keep indoor air as clean as possible. Keep windows and doors closed. If it is extremely hot, you can run an air conditioner but not a swamp cooler. Get more stay cool tips at our Heat Stress - Environmental Public Health Tracking page.
---
Media Contact
We would be happy to provide additional information about this press release. Simply contact David Morgan at 575-528-5197 (Office) or 575-649-0754 (Mobile) with your questions.