Departamento de Salud Asegurando el Acceso a Vacunas COVID-19 para Todos los Nuevomexicanos
---
Trayendo vacunaciones a la comunidad afroamericana a través de eventos importantes en el fin de semana
SANTA FE – Como seguimiento del anuncio de la Gobernadora Michelle Lujan Grisham de que el estado ha alcanzado el 60% de los nuevomexicanos totalmente vacunados, el estado continuará haciendo bien accesibles las vacunas COVID-19 – incluyéndolas en eventos importantes durante el fin de semana.
Estos eventos incluirán carpas de vacunación COVID-19, ruedas con premios, y radio remotos por parte de miembros comunitarios.
"La pandemia COVID-19 ha sido un reto, y ha impactado desproporcionadamente a las comunidades de color, incluyendo los afroamericanos. Tenemos una oportunidad de protegernos y proteger a nuestros seres queridos al vacunarnos," dijo la Secretaria NMDOH Dra. Tracie Collins.
Vea la declaración en video de la Dra. Collins sobre Juneteenth.
Aproximadamente el 38 por ciento de la comunidad afroamericana en Nuevo México ha completado su serie de vacunación.
"El tema de Juneteenth para este año es 'Hacia un Terreno Más Alto', que significa que escalamos hacia un fundamento sólido presentado por nuestros ancestros. Los afroamericanos siempre han contribuido en la formación y desarrollo de esta nación a través de sus talentos e innumerables sacrificios. Como veterana, quiero reconocer y saludar aquellos quienes han servido nuestra nación y estado en tiempos importantes durante nuestra historia," dijo la Secretaria del Departamento de Servicios a los Veteranos Sonya Smith.
Vea la declaración en video de la Secretaria Smith sobre Juneteenth.
"Mientras este fin de semana celebramos Juneteenth, celebramos nuestra libertad y fortaleza como comunidad. Necesitamos asegurarnos que hacemos algo igualmente importante para nuestras comunidades, incluyendo el asegurarnos que nos protegemos de la pandemia COVID-19. Quiero exhortarles a que entiendan la verdad acerca de las vacunas y lo que son mitos, y que salgan y decidan la decision correcta para ustedes," dijo la Directora Ejecutiva del Departamento de Asuntos Afroamericanos, Amy Whitfield.
Vea la declaración en video de la Directora Whitfield sobre Juneteenth.
"Como una americana Negra y nativa de Tejas, para mí Juneteenth representa tanto una celebración de la libertad humana como un fuerte recordatorio de que estas libertados fueron necesarias debido a las brutalidades silenciadas, que fueron ganadas durante siglos y en campos de batalla, y que las leyes y proclamaciones hechas no son suficientes para garantizar nuestras libertades. Como ciudadanos, espero que podamos tomar cada 19 de junio para reflexionar en nuestra responsabilidad de abogar por las libertades humanas universales, igualdad, y solidaridad," dijo el Secretario del Departamento de Educación Pública Ryan Stewart.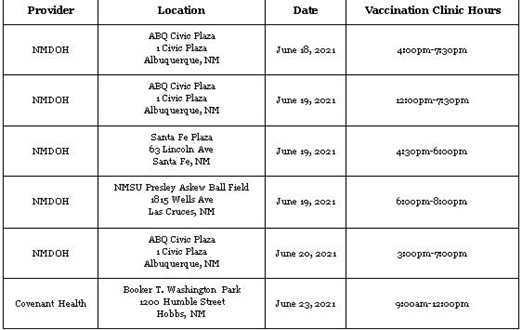 Aquí un listado de los eventos para el fin de semana que incluirá acceso fácir a vacunaciones e incentivos:
Los nuevomexicanos quienes han recibido por lo menos una dosis de la vacuna COVID-19, pueden inscribirse para Vax 2 the Max Sweepstakes en vax2themaxNM.org. Para ser elegible para el premio mayor de $5 millones – que será dado a principios del mes de Agosto – los nuevomexicanos tienen que haber completado su serie de vacunación. Usted puede programar sus vacunas en vaccineNM.org.
---
Contacto con los Medios
Estaríamos encantados de proporcionar información adicional sobre esta nota de prensa. Simplemente póngase en contacto Matt Bieber al 505-470-2290 (oficina) con sus preguntas.
---
English Version
In an effort to make our news releases more accessible, we also have an English version of this article available. Please click the link below to access the translation.
Department of Health Ensuring COVID-19 Vaccine Access for All New Mexicans