Cardiovascular Disease Tops Reason for Hospitalizations
---
State Health Department releases annual hospitalization report
A New Mexico Department of Health report reveals the most common disease related hospitalization is for cardiovascular disease. These include heart attacks, hypertension and stroke. The news comes as February is nationally recognized at American Heart Month. The top reason for overall hospitalizations is childbirth.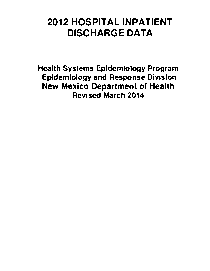 The Department of Health's recently released the Hospital Inpatient Discharge Data 2012 annual report describes hospital inpatient discharges in New Mexico. The top three disease related reasons for hospitalization among all age groups in New Mexico in 2012 were Cardiovascular Disease, also known as the Major Diagnostic Category, diseases of the circulatory system (17,758), diseases of the digestive system (16,716), and diseases of respiratory system (13,980). Diseases of the digestive system include appendicitis, noninfectious enteritis and colitis; diseases of the respiratory system include asthma and pneumonia.
The Department of Health recently established the Heart Disease and Stroke Prevention Program to address risk factors associated with cardiovascular disease.
"Although some risk factors cannot be changed through behavior - such as family history, sex or age - there are some key prevention steps that can be taken to reduce our risk of cardiovascular disease," said Department of Health Secretary Retta Ward, MPH. "The Heart Disease and Stroke Prevention Program works to encourage New Mexicans to reduce their risks by not smoking; choosing healthy foods; monitoring their salt intake; exercising; and keeping their weight and waist size down."
In 2013, Governor Susana Martinez signed Senate Bill 198, which created an S-T Elevation Myocardial Infarction (STEMI) heart attack receiving & referral center certification program for the Department of Health. In 2012, she signed House Bill 33, which created a stroke center certification program for the Department of Health.
The Stroke and STEMI/Heart Attack program has the goal of encouraging existing acute care hospitals to become heart attack receiving and referral centers, as well as also encouraging hospitals to become stroke centers. The Department of Health, working with these hospitals, will work to develop a program that assures that the care provided to New Mexico stroke or heart attack patients will be the best available. This includes receiving the best care possible in the pre-hospital setting from EMS caregivers, to assuring the patient reaches the most appropriate hospital rapidly and receiving the most advanced possible care after arrival at the hospital.
To become certified as stroke or STEMI/Heart Attack hospitals, submission of data regarding these conditions is integral. To that end, the 2013 legislature provided funding for the creation of stroke and STEMI data registries.
According to the Department's Hospital Discharge 2012 Data Report, of the 150,292 reported hospitalizations, approximately 60 percent of patients hospitalized were women and 40 percent were men. Thirty-five percent of all hospitalizations occurred among residents over the age of 65 years. The highest hospitalization rate by region was 937.5 per 10,000 population in the Northeast region, and the lowest rates were in the Southwest region, reporting 565.7 per 10,000 population.
You can read the full Hospital Inpatient Discharge Data 2012 annual report online.
---
Media Contact
We would be happy to provide additional information about this press release. Simply contact Kenny Vigil at 505-841-5871 (Office) or 505-470-2290 (Mobile) with your questions.