NMDOH Launches Upgraded Website with Health Data
---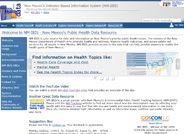 The New Mexico Department of Health announced today that it has released a greatly-enhanced version of its Indicator-based Information System (NM-IBIS), which provides high-quality visualization of New Mexico health status data over the internet.
Visit the New Mexico Indicator-Based Information System (NM-IBIS) website to see the enhancements today.
"I encourage everyone, especially members of Community Health Councils, to access health data on New Mexico's Indicator-based Information System so that they can understand the health status in their communities," said Department of Health Cabinet Secretary Retta Ward, MPH. "Having an understanding of the health status in our local communities can help us improve health outcomes."
The website provides data, charts and maps for sub-county areas, called "small areas." It also displays full-color, interactive charts and maps. Data can be located by health topic, health indicator, county, or health dataset.
The NM-IBIS website was designed with input from New Mexico's regional health offices and County Health Councils, two local groups that use health status data to understand and prioritize health issues in their local communities.
Staff subject-matter experts across the department contribute data and other content to NM-IBIS. In addition to contributing content, the Environmental Health Epidemiology Bureau in NMDOH displays environmental data on NM-IBIS and on the department's Environmental Public Health Tracking website.
View the New Mexico Indicator-Based Information System Overview video for a brief tour of the new system.
---
Media Contact
We would be happy to provide additional information about this press release. Simply contact Kenny Vigil at 505-841-5871 (Office) or 505-470-2290 (Mobile) with your questions.
---
Versión en Español
En un esfuerzo para hacer que nuestros comunicados de prensa sean más accesibles, también tenemos disponibles una versión en español. Por favor presione el enlace de abajo para acceder a la traducción.