Día Nacional de Devoluciones de Medicamentos Recetados
---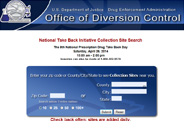 Los medicamentos recetados caducados, no deseados o no utilizados, pueden ser dejados para una eliminación adecuada en los sitios de recolección que hay a través de todo Nuevo México el sábado, 22 de octubre, 10 a.m. - 2 p.m. como parte del Día Nacional de Devoluciones de Medicamentos Recetados de la Administración de Control de Drogas de Estados Unidos.
Las píldoras de prescripción que quiera tirar pueden ser llevadas a los sitios de recolección que hay en decenas de comunidades de Nuevo Mexico que son atendidos por el personal de la policía estatal, local y los departamentos del sheriff del condado. El servicio es gratuito y anónimo.
Visite la página web National Take Back Initiative Site Search para encontrar el sitio de recolección más cercano en su comunidad.
Hace varios meses, el Departamento de Salud de Nuevo México informó de una disminución del nueve por ciento de muertes por sobredosis en todo el estado, pero el abuso de medicamentos con receta sigue siendo un importante problema de seguridad pública y salud pública en Nuevo México.
"El desvío de drogas - cuando una persona roba medicamentos recetados por el médico de sus familias, amigos o botiquines de vecinos - es como la mayoría de los casos de abuso de drogas suelen comenzar en Nuevo México y en los Estados Unidos, y como a menudo se forman los hábitos mortales", dijo la Secretaria Designada del Departamento de Salud Lynn Gallagher. "El Día Nacional de Devoluciones de Medicamentos Recetados es una gran oportunidad para deshacerse de manera segura de los medicamentos recetados no deseados o no utilizados y asegurarse de que no caigan en las manos equivocadas."
Además, los estadounidenses son aconsejados de que sus métodos habituales para la eliminación de los medicamentos no utilizados – ya sea tanto el tirarlos en el baño como el tirarlos a la basura, plantean posibles riesgos de seguridad y de salud.
En 11 eventos anteriores acerca de devoluciones, la Administración de Control de Drogas junto con socios del estado, socios locales y socios tribales del orden han recogido más de 6,4 millones de libras - alrededor de 3.200 toneladas - de medicamentos recetados en todo el país.
Para obtener información sobre la seguridad de medicamentos recetados, visite la sección Opioid Safety de nuestra página web. Hay recursos adicionales disponibles en el programa Harm Reduction de NMDOH.
---
Contacto con los Medios
Estaríamos encantados de proporcionar información adicional sobre esta nota de prensa. Simplemente póngase en contacto David Morgan al 575-528-5197 (oficina) o 575-649-0754 (móvil) con sus preguntas.
---
English Version
In an effort to make our news releases more accessible, we also have an English version of this article available. Please click the link below to access the translation.