Department of Health Releases Health Equity Report
---
Report Revamped and Includes Data for New Mexico's Border Region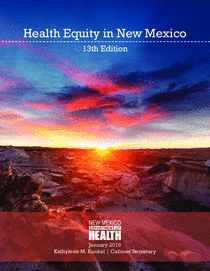 The New Mexico Department of Health recently published the 10th Edition of its Health Equity Report and it includes some major changes from previous editions. The goal of the report is to provide information about health status of different population groups in the state. Data in the report is presented by race and ethnicity.
For the first time, the report now includes health indicator information for New Mexico's border region, non-border region and the United States to give a better understanding of health status based on where people live.
"We want to make data more user-friendly, and provide more context about health disparities that impact New Mexicans," said Deputy Secretary of Health Lynn Gallagher. "The Health Equity Report is an important tool that can help guide our work to improve health status."
Also new in the 10th Edition, is information about the work the Department is performing related to health indicators and recommended strategies to reduce health disparities. Health disparities refer to preventable differences in the quality of health and health care that exist among specific population groups.
Some key findings in the report include:
Diabetes was the 6th leading cause of death in New Mexico in 2013 and was the underlying cause of 641 deaths for NM residents. Diabetes prevalence in NM is highest among individuals with less than a high school education, and among individuals making less than $25,000 a year.
The fall-related death rate decreased 10 percent during 2008-2014 and increased 30 percent from year 2013 to 2014. From 2010-2014, American Indian and white men experienced the highest fall-related death rates. Men in each racial or ethnic group experienced higher fall-related death rates than women in the same group.
During the 2014-2015 flu season, New Mexico had more than 260 influenza and pneumonia-related deaths. American Indians in New Mexico experience the highest rates of influenza- and pneumonia deaths, more than double the New Mexico and NM averages.
This year, the Association of State and Territorial Health Officials (ASTHO) President's Challenge is achieving health equity. As part of our commitment to this challenge, the Department of Health is working with community health partners to see how best they can use the report to inform decision-making and policy work in local communities.
You can visit the Health Equity section of our website to view the Health Equity in New Mexico 2019.
---
Media Contact
We would be happy to provide additional information about this press release. Simply contact Kenny Vigil at 505-841-5871 (Office) or 505-470-2290 (Mobile) with your questions.
---
Versión en Español
En un esfuerzo para hacer que nuestros comunicados de prensa sean más accesibles, también tenemos disponibles una versión en español. Por favor presione el enlace de abajo para acceder a la traducción.
El Departamento de Salud Publica un Informe Sobre la Equidad en la Salud