Día para Devolver Drogas Ofrece una Forma Segura para Desechar Prescripciones
---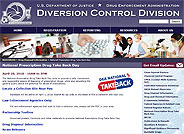 Drogas prescritas expiradas pueden ser dejadas para ser desechadas el 28 de abril como parte del Día para Devolver Drogas de la Administración para el Control de Drogas de los Estados Unidos (DEA). La División de Servicios de Salud del Comportamiento (BHSD), una división del Departamento de Servicios Humanos, se está asociando con esta iniciativa de devolución de drogas, asegurándose que los recipientes para el desecho de drogas estén disponible a través de Nuevo México todos los días del año.
BHSD tiene 29 localidades abiertas en Nuevo México para que medicamentos expirados y no utilizados sean desechados en anonimato y sin hacer preguntas. Los nuevomexicanos podrán devolver en cualquier momento del año en las farmacias, hospitales y otras áreas designadas los medicamentos no utilizados.
"Mientras continuamos construyendo los esfuerzos para combatir el abuso de drogras y fatalidades por sobredosis, esta es una oportunidad para que todos los nuevomexicanos se nos unan en la lucha para salvar vidas," dijo la Gobernadora Susana Martinez. "Yo exhorto a todos los nuevomexianos a que participen de este servicio gratuito para eliminar cualquier medicamento no utilizado, deseado o expirado en casa."
Este es el décimo cuarto Día para Devolver Drogas y es parte de un esfuerzo nacional para remover opioides y otros medicamentos en hogares para que no sean abusados o robados.
"Los medicamentos que ya no son utilizados pueden presentar peligros graves e innecesarios para las familias y las personas visitando dichos hogares. Los programas para devolver medicamentos activados por comunidades locales en Nuevo México son un gran paso hacia la prevención de muertes innecesarias debido a exposición accidental a medicamentos o un desvío hacia el uso ilegal," dijo el Secretario del Departamento de Servicios Humanos Brent Earnest.
El otoño pasado, DEA recolectó 456 toneladas de medicamentos potencialmente dañinos a través de la nación. En Nuevo México, DEA recolectó 11,688 libras de medicamentos.
En 2016, la Gobernadora firmó legislación diseñada para reducir la búsqueda de drogras y expandir el acceso a Naloxona (un medicamento que puede ayudar a revertir una sobredosis por opioides). En 2014, Nuevo México se convirtió en el primer estado de la nación en ofrecer a los farmacéuticos la autoridad para recetar Naloxona. La administración de Martinez también ha expandido los programas de tratamiento ambulatorio, removiendo la autorización previa para Naloxona bajo Medicaid, y está expandiendo el número de clínicas Metadona y el número de ellas aceptando Medicaid.
También hay una variedad de esfuerzos educativos tales como el programa de concienciación de drogas "Sin Excepciones", participación en el Día Nacional de Devolución de Drogas, esfuerzos de prevención tales como PMP, e iniciativas en políticas tales como la cobertura de Naloxona por Centennial Care.
Solo hace unos meses el Departamento de Salud de Nuevo México anunció que la tasa en las muertes estatales por sobredosis mejoraron, de ser las octavas más altas en la nación para 2015 a décimo segundas en 2016. Este es el segundo año que la posición alcanzada por Nuevo México ha mejorado sustancialmente de acuerdo con los Centros para el Control y Prevención de Enfermedades (CDC). Esta es la primera vez que Nuevo México no ha estado entre las primeras 10 posiciones en las tasas de muertes por sobredosis por drogas desde que CDC comenzó a reportar la información en 1999.
"Mientras que es un progreso importante combatiendo el abuso de drogas y fatalidades por sobredosis en Nuevo México, todavía hay mucho por hacer, por lo que la Gobernadora y su administración continuarán haciendo todo lo posible para terminar con esta epidemia", dijo la Secretaria del Gabinete de Salud Lynn Gallagher.
El Día para Devolver Drogas comenzará a las 10 a.m. terminando a las 2 p.m. Para un listado completo de las localidades para el Día para Devolver Drogas, visite el sitio National Take Back Drug Day .
Vea el sitio A Dose of Reality para aprender más sobre los recipientes diarios disponibles en NM para devolver drogas.
---
Contacto con los Medios
Estaríamos encantados de proporcionar información adicional sobre esta nota de prensa. Simplemente póngase en contacto Paul Rhien al 505-470-2290 (oficina) con sus preguntas.
---
English Version
In an effort to make our news releases more accessible, we also have an English version of this article available. Please click the link below to access the translation.
Drug Take-Back Day Provides Safe Way to Dispose of Prescriptions