Tobacco Use Among New Mexico High School Students at All-Time Low
---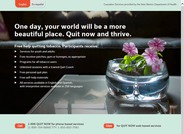 The New Mexico Department of Health (NMDOH) reports that rates of cigarette smoking by New Mexico high school students are lower than ever before - dropping by more than 50 percent over the last decade.
According to data from the 2017 New Mexico Youth Risk and Resiliency Survey (YRRS), youth cigarette smoking has dropped from 24.2 percent in 2007 to nearly one in ten (10.6 percent) New Mexico high school students in 2017. Usage rates for other tobacco products including cigars, chew/spit tobacco, and hookah (a large water pipe used to smoke tobacco) have also fallen to historic lows.
"It's great news that New Mexico youth are smoking fewer cigarettes and that rates for most tobacco products continue to see significant declines," said Department of Health Cabinet Secretary Lynn Gallagher. "At NMDOH, it's one of our priorities to educate our youth about the risks and dangers of tobacco – that can go a long way toward making cigarettes uncool and out of fashion."
NMDOH continues to work towards further decreasing rates of smoking and other tobacco use among youth, which includes addressing the growing trend of the use of e-cigarettes and other electronic vapor products. Multiple NMDOH campaigns and resources are focused on preventing youth and young adults from starting to use tobacco products, including:
Evolvement – a youth movement working to decrease the harmful, addictive use of commercial tobacco;
24/7 Tobacco Free Schools – a program in which students reach out to administrators of local school districts to assure campuses are tobacco free 24 hours a day, seven days a week;
No Minor Sale – a campaign educating New Mexico communities, parents and retailers to help prevent illegal tobacco sales to minors;
Tobacco Free Campuses New Mexico – providing technical assistance and resources for New Mexico colleges and universities committed to implementing tobacco-free campus policies.
People who stop smoking can greatly reduce their risk for disease and premature death as well as help protect children, family, friends and pets from exposure to secondhand smoke that can cause immediate harm to those who breathe it.
For support in quitting smoking and other tobacco use, New Mexicans can call 1-800-QUIT-NOW (1-800-784-8669) or 1-855-DEJELO-YA (1-855-335-3569) for nicotine patches, gum, or lozenges for registered participants, along with a quit plan and sessions with a trained coach – all at no cost to residents.
There are also web-based services at quitnownm.com and dejeloyanm.com that also offer additional online support. NMDOH services offer 24-hour text message support.
---
Media Contact
We would be happy to provide additional information about this press release. Simply contact David Morgan at 575-528-5197 (Office) or 575-649-0754 (Mobile) with your questions.
---
Versión en Español
En un esfuerzo para hacer que nuestros comunicados de prensa sean más accesibles, también tenemos disponibles una versión en español. Por favor presione el enlace de abajo para acceder a la traducción.
Uso de Tabaco en Estudiantes de Escuela Superior de Nuevo México en su Más Bajo Nivel