El Sureste de Nuevo México con el Índice Más Alto de Visitas al Departamento de Emergencias en el Estado
---
El Sureste de Nuevo México con el Índice Más Alto de Visitas al Departamento de Emergencias en el Estado
El Departamento de Salud Estatal libera reporte anual de admisiones a departamentos de emergencias
Un reporte del Departamento de Salud de Nuevo México (NMDOH) examinando la información del año más reciente, encuentra que la parte sureste del estado tiene el índice más alto en visitas a las salas de emergencias.
Emergency Department Data Report 2017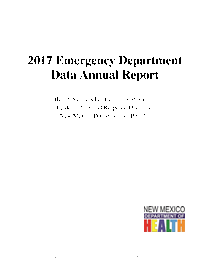 resume las visitas a departamentos de emergencia (ED) de hospitales no federales en el estado, viendo quién asiste a las salas de emergencias, la edad, cuál fue la razón para ser visto y dónde. Un total de 812,506 visitas de emergencia fueron evaluadas.
"Reconociendo cómo los nuevomexicanos utilizan los departamentos de emergencia nos ayuda a entender mejor el acceso al cuidado de la salud y cómo los hospitales son utilizados por los pacientes a través del estado," dijo la Secretaria del Gabinete de Salud Kathy Kunkel.
La tasa total de los residentes nuevomexicanos vistos en departamentos de emergencias fue de 3,901 personas por cada 100,000. La utilización de los departamentos de emergencia varía entre las regiones, con los índices más altos de 4,903 visitas ED por cada 10,000 residentes en la Región Sureste, que consiste en los condados de Quay, DeBaca, Curry, Lincoln, Roosevelt, Chaves, Eddy y Lea.
La tasa más baja es en la región Metro, con los condados de Bernalillo, Sandoval, Torrance y Valencia. La región Metro tuvo 3,478 visitas ED por cada 10,000 residentes. La razón para las diferencias es atribuida en parte a las enfermedades del sistema respiratorio y lesiones, envenenamientos, y algunos problemas médicos que son más comunes en la parte sureste del estado.
Otras revelaciones encontradas incluyen:
Personas de 65 años y mayores tienen el índice de visitas ED más alto, con una tasa de 4,297 por población de 10,000 personas.
Medicaid representa el pagador mayor, cubriendo al 42 por ciento de las visitas ED. Luego les sigue Medicare con 22 por ciento y los seguros privados con 21 por ciento.
De las 34 facilidades reportando información, Presbyterian Hospital en Albuquerque tuvo el número más alto de visitas ED. Guadalupe County Hospital tuvo la más baja.
---
English Version
In an effort to make our news releases more accessible, we also have an English version of this article available. Please click the link below to access the translation.
Southeast New Mexico Has Highest Rate of Emergency Department Visits in the State