Department of Health recommends parents and guardians check that their children's immunizations are up to date
---
SANTA FE — The New Mexico Department of Health encourages parents and guardians to speak with healthcare providers about childhood and adolescent immunizations, so children can catch up if they have fallen behind schedule.
"There is no better time to schedule a well-child visit to keep your child up to date on their immunizations than right now," said DOH Deputy Secretary Dr. Laura Parajon. "All vaccines are tested to make sure they are safe and effective. Immunization can save your child's life from life-threatening illnesses like polio and measles."
Immunization rates for school aged children have declined since 2020 both nationally and in New Mexico. According to the CDC childhood immunization rates dropped to 94% in the U.S. during 2020-2021.Below is a graph showing vaccination rates for MMR (Measles, Mumps and Rubella) in New Mexico for the last three years - measles is so contagious that coverage should be 95% or higher.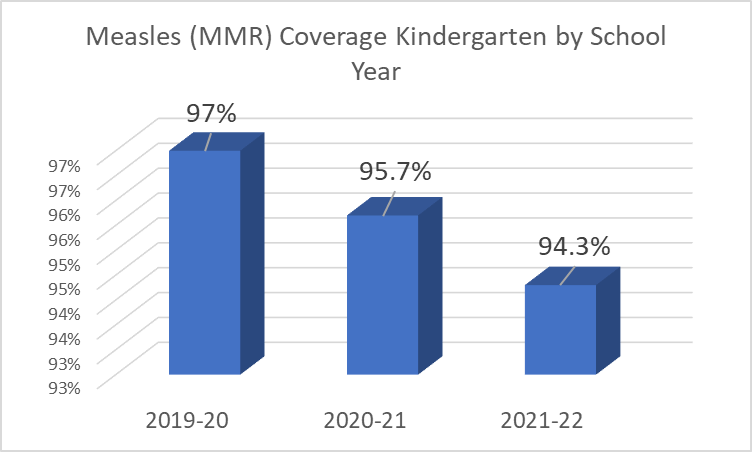 Immunization builds up defenses against chicken pox, hepatitis, whooping cough and more. Parents and guardians are urged to schedule their well-child visits as soon as possible to make sure their kids are healthy and are meeting immunization and developmental milestones.
All common vaccines are available at your local public health office or by speaking with the medical provider of your choice. You can find a complete list of immunizations available here.
---
Media Contact
We would be happy to provide additional information about this press release. Simply contact Trevor Dermody at 505-470-8573 (Office) with your questions.