Important Mosquito Species Found in Albuquerque
---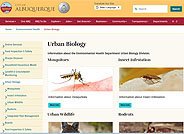 Vector of diseases continues to expand habitat range from other counties
The City of Albuquerque Environmental Health Department and the New Mexico Department of Health have determined that a species of mosquito called Aedes aegypti is now being collected in the Rio Grande bosque area of Albuquerque. This is the first time that this mosquito vector capable of transmitting Zika, dengue, chikungunya and other diseases has been recovered in Albuquerque or Bernalillo County.
To date, Aedes aegypti mosquitoes have also been found in Chaves, Curry, Doña Ana, Eddy, Guadalupe, Hidalgo, Lea, Luna, Otero, Quay, Roosevelt, Sierra, Socorro, and Valencia counties.
"We have been monitoring mosquito populations here for decades and never collected Aedes aegypti," said Dr. Mark DiMenna, Deputy Director at the City's Environmental Health Department. "We are grateful to have made this detection early so we have the best possible opportunity to track and prevent illness."
Aedes aegypti, also known as the yellow fever mosquito, is an important vector of mosquito-borne disease worldwide. The species originated in Africa but has been carried around the world along trade routes. In addition to most tropical countries, it has historically been found throughout areas of the southern and eastern United States. Over the past several years, a range expansion has been reported in New Mexico as additional monitoring has found populations of the mosquito established in several counties where it had not previously been known to exist.
There has been no local transmission of Zika, dengue or chikungunya virus in New Mexico, so although the mosquitoes can be found in several counties in the state, the risk remains very low for New Mexicans. According to the State Epidemiologist with the New Mexico Department of Health, Dr. Mike Landen, "the risk for these diseases is primarily to persons traveling to an area in the world where those diseases are actively transmitted."
Current monitoring indicates that Aedes aegypti is limited to areas near the bosque in the central extent of the city. The City of Albuquerque's Urban Biology Division, part of the Environmental Health Department, operates a mosquito control program in collaboration with Bernalillo County. Staff from this program are evaluating options in an effort to stop or delay the further establishment of this new species; because monitoring has detected the presence of this mosquito early, the City will have the best possible opportunity to track, and hopefully slow, its establishment. In addition, knowing that this species is present provides a significant benefit in protecting public health if viruses that it transmits turn up locally.
In addition, the Environmental Health Department is asking the community to take steps to reduce mosquito breeding around their homes and property. Aedes aegypti breeds primarily in containers found around human development and housing. People can reduce breeding and slow the establishment of this mosquito by dumping out any containers that hold water and scrubbing them out to remove any mosquito eggs. Although the mosquito season is nearly over, mosquitoes may still be breeding, and eggs can survive through the winter.
To avoid risk of mosquito-borne disease:
Use insect repellent on exposed skin when you go outdoors. Products containing DEET or Picaridin can provide long-lasting protection. Use products with no more than 35 percent DEET for adults and follow the directions on the label for children from ages 2-12. Natural products containing soybean oil or oil of lemon eucalyptus have also been shown to be effective but need to be applied more often.
When weather permits, wear loose-fitting, long-sleeved shirts, long pants and socks. Mosquitoes can bite through thin clothing, so use an EPA-registered repellent on your clothing.
The hours from dusk to dawn are peak biting times for mosquitoes. Take extra care to use repellent and protective clothing, or consider avoiding outdoor activities during these times.
Keep windows and doors closed if not screened. If you leave your house doors or windows open, make sure they have screens that fit tightly and have no holes.
Mosquitoes lay their eggs in standing water. Empty water from containers such as old tires, flowerpots and trash receptacles. Circulate water in swimming pools, and change water regularly in birdbaths and pet bowls.
For more information on mosquito control in Albuquerque and Bernalillo County see the Urban Biology website.
For more information on Aedes aegypti range nationally visit the CDC Mosquito Control Potential Range in the US webpage.
---
Media Contact
We would be happy to provide additional information about this press release. Simply contact Paul Rhien at 505-470-2290 (Office) with your questions.
---
Versión en Español
En un esfuerzo para hacer que nuestros comunicados de prensa sean más accesibles, también tenemos disponibles una versión en español. Por favor presione el enlace de abajo para acceder a la traducción.
Especies Importantes de Mosquitos Encontradas en Albuquerque