Kids for Smoke-Free Air Challenge
---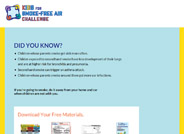 The New Mexico Department of Health (NMDOH) salutes the Boys & Girls Clubs of New Mexico for their public health efforts in promoting the NMDOH Tobacco Use Prevention and Control program's "Kids for Smoke-Free Air Challenge", a secondhand smoke awareness campaign for parents and families who may be exposing their children and others to unhealthy secondhand smoke in homes and cars.
Four participating Boys & Girls Clubs collected over 1300 signed pledges from adults 18 and over throughout their communities agreeing to keep their homes and cars smoke free. The clubs are located in diverse communities from Albuquerque to Sierra Blanca and Ohkay Owingeh to Las Cruces. In addition to gathering signatures, kids and adults learned more about the Kids for Smoke-Free Air Challenge campaign through a website, videos in English and Spanish, and an educational activity, "What Happens When You Breathe Secondhand Smoke".
The "Kids for Smoke-Free Air Challenge" included a contest in which participating Boys and Girls Clubs earned cash prizes of up to $1000 for each club.
Secondhand smoke can cause serious health problems in children.
Studies show that children whose parents smoke get sick more often. Their lungs develop less than children who do not breathe secondhand smoke, and they get more bronchitis and pneumonia.
Wheezing and coughing are more common in children who breathe secondhand smoke.
Secondhand smoke can trigger an asthma attack in a child. Children with asthma who are around secondhand smoke have more severe and frequent asthma attacks. A severe asthma attack can put a child's life in danger.
Children whose parents smoke around them get more ear infections.
For more information on secondhand smoke, visit the Are You Doing Enough? website. For more information on New Mexico's free tobacco cessation services, visit the Quit Smoking Now website.
---
Media Contact
We would be happy to provide additional information about this press release. Simply contact David Morgan at 575-528-5197 (Office) or 575-649-0754 (Mobile) with your questions.
---
Versión en Español
En un esfuerzo para hacer que nuestros comunicados de prensa sean más accesibles, también tenemos disponibles una versión en español. Por favor presione el enlace de abajo para acceder a la traducción.