New Mexicans encouraged to seek underutilized and highly effective COVID-19 Oral Treatments
---
Convenient at-home treatments now available for
most New Mexicans
SANTA FE: The Department of Health (DOH) encourages New Mexicans to seek COVID-19 treatment options as soon as possible following the first symptoms of illness, to significantly reduce the risk of hospitalization. Most New Mexicans qualify for outpatient COVID-19 treatment options that can be taken at home, especially those at high-risk for severe COVID-19 disease. However, in the last two weeks, individuals have used less than 19% of the state's oral treatment supply.
DOH urges those with risk factors for severe COVID-19 disease to seek testing and treatment at the first sign of even mild symptoms, as COVID-19 can be very serious for people with health conditions, and there is a limited window to start treatment.
If an individual seeking treatment does not have a medical provider, they can call NMDOH's COVID-19 hotline at 1-855-600-3453.
Oral treatments:
Paxlovid (age 12+)
Molnupiravir (age 18+)
IV treatments:
Remdesivir (7.8 lbs +)
Sotrovimab (age 12+)
When to start:
Oral treatments, within 5 days of onset of symptoms.
IV treatments, within 7-10 days of onset of symptoms.
Risk factors for severe COVID-19 disease:
People 65 years and older, those with immune suppressing health conditions or medications, pregnancy, obesity, diabetes, kidney disease, high blood pressure, cardiovascular disease, and more.
A complete list can be found at:
You should get tested if:
You have symptoms of COVID-19: cough, fever, shortness of breath, chills, repeated shaking with chills, muscle pain, headache, sore throat, congestion or runny nose, nausea or vomiting, diarrhea, and/or loss of taste or smell.
You have been a close contact of someone who tested positive for COVID-19 (within 6 feet or less for more than 15 minutes).
You are required to present a COVID-19 test to your employer, educational institution, or another entity.
For more information please visit: COVID-19 Oral Treatments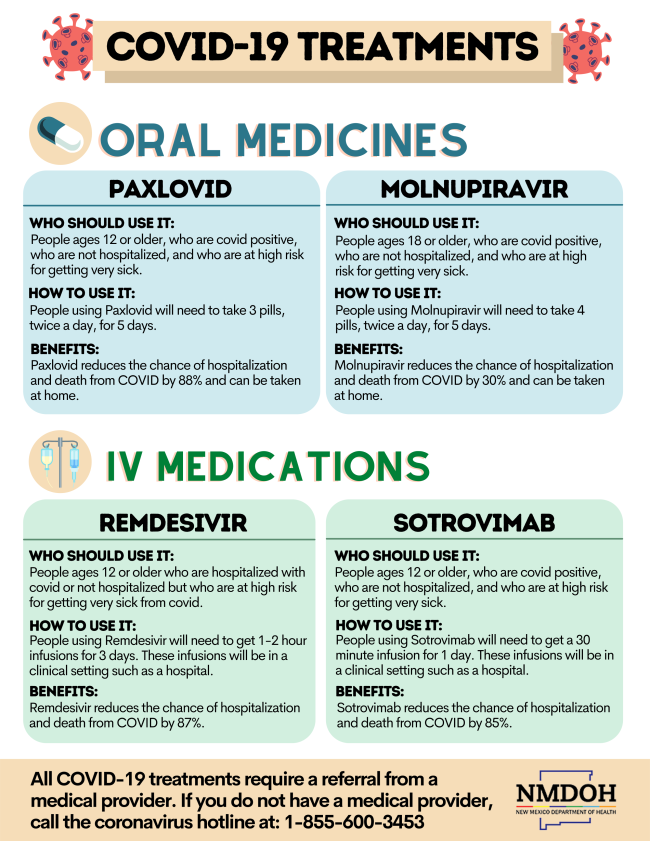 ###
NMDOH
Katy Diffendorfer, Health Equity Communications Manager | Katy.Diffendorfer@state.nm.us
The Department of Health works to promote health and wellness, improve health outcomes, and deliver services to all New Mexicans. As New Mexico's largest state agency, DOH offers public health services in all 33 counties and collaborates with 23 Native American tribes, Pueblos and nations.
---
Media Contact
We would be happy to provide additional information about this press release. Simply contact Katy Diffendorfer at (Office) with your questions.
---
Versión en Español
En un esfuerzo para hacer que nuestros comunicados de prensa sean más accesibles, también tenemos disponibles una versión en español. Por favor presione el enlace de abajo para acceder a la traducción.
Se recomienda a los nuevomexicanos que utilicen tratamientos orales poco utilizados y muy eficaces de COVID-19