NMDOH Working with CDC to Rule Out Ebola in Patient
---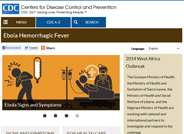 Out of an abundance of caution, the New Mexico Department of Health is working with the Centers for Disease Control and Prevention (CDC) to perform tests to rule out Ebola in a 30-year-old woman who developed sore throat, headache, muscle aches and fever. The woman is at UNM Hospital in Albuquerque in stable condition.
The woman had been in Sierra Leone, Africa, and left there earlier this month. Sierra Leone is one of several countries in West Africa with known cases of Ebola. The woman was a teacher, and had no known exposures to Ebola. At this time the patient is not a probable case, but a person under investigation with no known exposures.
"The Department of Health is working closely with UNM Hospital and the Centers for Disease Control and Prevention on this investigation," said Department of Health Cabinet Secretary Retta Ward, MPH. "UNM Hospital has isolated the patient, and is following the appropriate protocols to ensure other patients and health care workers are safe."
According to the CDC, Ebola poses no substantial risk to the US general population. A person infected with Ebola virus is not contagious until symptoms appear. The virus is spread through direct contact (through broken skin or mucous membranes) with the body fluids (blood, urine, feces, saliva, and other secretions) of a person who is sick with Ebola. Ebola is not spread through the air or by food or water.
As of August 13, no confirmed Ebola cases have been reported in the United States, other than the two US health workers evacuated from Liberia.
For more information visit the CDC Ebola Virus Disease page.
---
See Also
August 18, 2014 - NMDOH Working with CDC to Rule Out Ebola in Patient (Update)
---
Media Contact
We would be happy to provide additional information about this press release. Simply contact Kenny Vigil at 505-841-5871 (Office) or 505-470-2290 (Mobile) with your questions.
---
Versión en Español
En un esfuerzo para hacer que nuestros comunicados de prensa sean más accesibles, también tenemos disponibles una versión en español. Por favor presione el enlace de abajo para acceder a la traducción.
El Departamento de Salud de NM Trabaja con CDC para Descartar Ébola en una Paciente