Fort Bayard State Veterans Home Enjoying the Gift of Music
---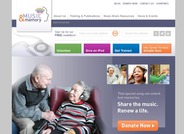 Music fills the hearts and minds of veterans at Fort Bayard State Veterans Home (FBSVH) – and not just any music. Personalized therapeutic music. Music that lifts the spirit and feeds the soul. Veterans residing at FBSVH are benefitting from a newly established MUSIC & MEMORYSM program, made possible by a generous gift of more than $3,000 from the American Legion Auxiliary-New Mexico Department.
MUSIC & MEMORYSM enables those struggling with Alzheimer's, dementia and other cognitive and physical challenges to reconnect with the world through music-triggered memories. The benefits of this program can include reduced agitation, sleeplessness and depression. It can also uplift spirits, increase joyful experiences; and greatly improve quality of life. Since its inception in 2006, the program has been instituted in hundreds of care facilities throughout the United States and Canada.
This was the special project of Gwen G. Miller, immediate past President of the American Legion Auxiliary-New Mexico Department, who presented the check to Fort Bayard State Veterans Home, which is operated by the New Mexico Department of Health.
"I was so moved after watching the documentary 'Alive Inside: A Story of Music and Memory,' I knew we had to make this available to Veterans at Fort Bayard State Veterans Home," said Miller.
The gift enabled FBSVH to become a certified MUSIC & MEMORYSM facility, train staff, and provide each resident veteran at FBSVH with a personal iPod, headphones, and purchased songs. A clip from the "Alive Inside" documentary, which went viral with now more than 11 million views, is available on the Music and Memory website.
"We are grateful to the American Legion Auxiliary and are honored to accept this gift for our Veterans," said FBSVH Administrator Todd Winder. "We have already interviewed the first FBSVH Veterans to determine their playlists, and loaded their iPods. When we placed their headphones on them and they heard their favorite songs, they had expressions of joy and tears of happiness. They tapped hands and feet to the beat. They sang along. One got up and started dancing! This is truly a lasting and magnificent gift."
About Fort Bayard State Veterans Home
Fort Bayard State Veterans Home (FBSVH) is a licensed and certified 40-bed neighborhood within Fort Bayard Medical Center (FBMC). FBMC is a licensed and certified long-term, intermediate, and skilled care facility. With in-house physicians and services, FBSVH provides care for honorably discharged veterans and their spouses who need rehabilitative services or a higher degree of medical care. Because of their medical needs, they can no longer provide care for themselves, and their families cannot care for them at home. The facility also welcomes Gold Star Parents who have lost children serving this country.
About the American Legion Auxiliary
American Legion Auxiliary members have dedicated themselves for nearly a century to meeting the needs of our nation's veterans, military and their families both here and abroad. They volunteer millions of hours yearly, with a value of more than $3.1 billion. As part of the world's largest women's patriotic service organization, American Legion Auxiliary volunteers across the country also step up to honor veterans and military through annual scholarships and with American Legion Auxiliary Girls State programs, teaching high school juniors to be leaders grounded in patriotism and Americanism. To learn more about the American Legion Auxiliary's mission or to volunteer, donate or join, visit the American Legion Auxiliary website.
---
Media Contact
We would be happy to provide additional information about this press release. Simply contact Kenny Vigil at 505-841-5871 (Office) or 505-470-2290 (Mobile) with your questions.
---
Versión en Español
En un esfuerzo para hacer que nuestros comunicados de prensa sean más accesibles, también tenemos disponibles una versión en español. Por favor presione el enlace de abajo para acceder a la traducción.
El Hogar para Veteranos del Estado en Fort Bayard Disfrutando del Regalo de la Música