Free Resources for Annual Great American Smokeout®
---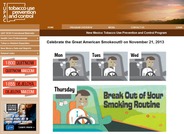 The New Mexico Department of Health (NMDOH) encourages tobacco users statewide to use its free services as they join thousands nationwide for the annual Great American Smokeout® Thursday, November 16th.
Created by the American Cancer Society® (ACS), the Great American Smokeout® happens every year on the third Thursday of November. NMDOH's Tobacco Use Prevention and Control Program (TUPAC) offers helpful tools for New Mexicans using the date to quit and stay smoke- and tobacco-free.
Approximately 16.6% of adult New Mexicans were current cigarette smokers in 2016 compared to 17.5% in 2015 and 19.1% in 2014.
"Quitting is tough under any circumstance, especially when people try to quit rapidly and without help." said NMDOH Cabinet Secretary Lynn Gallagher. "Our TUPAC program has proven success with its cessation services, helping more than 8,000 residents each year."
New Mexicans can call 1-800-QUIT-NOW (1-800-784-8669) or 1-855-DEJELO-YA (1-855-335-3569) for nicotine patches, gum, or lozenges for registered participants, along with a quit plan and sessions with a trained coach – all at no cost to residents.
There are also web-based services at quitnownm.com or dejeloyanm.com that also offer additional online support. NMDOH services offer 24-hour text message support. There are even TTY available for the deaf and hearing impaired at 1-877-777-6534.
The New Mexico Department of Health continues to work towards decreasing rates of smoking and other tobacco use. For more information both the public and health care professionals can visit the Nicotine Use Prevention and Control website.
---
Media Contact
We would be happy to provide additional information about this press release. Simply contact Paul Rhien at 505-470-2290 (Office) with your questions.
---
Versión en Español
En un esfuerzo para hacer que nuestros comunicados de prensa sean más accesibles, también tenemos disponibles una versión en español. Por favor presione el enlace de abajo para acceder a la traducción.