Recursos Gratuitos para el Annual Great American Smokeout®
---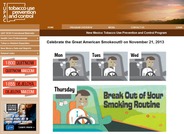 El Departamento de Salud de Nuevo México (NMDOH, por sus siglas en inglés) anima a los consumidores de tabaco de todo el estado a utilizar sus servicios gratuitos y unirse a miles de personas en todo el país para el evento anual Great American Smokeout® el jueves 16 de noviembre.
Creado por American Cancer Society® (ACS), el evento Great American Smokeout® ocurre todos los años el tercer jueves de noviembre. El Programa de Prevención y Control del Uso del Tabaco de NMDOH (TUPAC) ofrece herramientas útiles para los residentes de Nuevo México que usan esta fecha para dejar de fumar y para mantenerse libre de humo y tabaco.
Aproximadamente el 16,6% de los nuevomexicanos fumaban cigarrillos en 2016 en comparación con el 17,5% en 2015 y el 19,1% en 2014.
"Dejar de fumar es difícil bajo cualquier circunstancia, especialmente cuando las personas intentan dejar de fumar rápidamente y sin ayuda", dijo la secretaria del gabinete de NMDOH, Lynn Gallagher. "Nuestro programa TUPAC ha demostrado su éxito con sus servicios para dejar de fumar, ayudando a más de 8.000 residentes cada año".
Los nuevomexicanos pueden llamar al 1-800-QUIT-NOW (1-800-784-8669) o al 1-855-DEJELO-YA (1-855-335-3569) para obtener parches de nicotina, goma de mascar o pastillas para los participantes registrados, junto con un plan para dejar de fumar y sesiones con un entrenador capacitado, todo esto sin ningún costo para los residentes.
También hay servicios basados ​​en la web en quitnownm.com o dejeloyanm.com que también ofrecen soporte adicional en línea. Los servicios de NMDOH ofrecen soporte de mensajes de texto las 24 horas. Incluso hay TTY disponible para las personas sordas y con discapacidad auditiva llamando al 1-877-777-6534.
El Departamento de Salud de Nuevo México continúa trabajando para reducir las tasas de tabaquismo y otros usos de tabaco. Para obtener más información, tanto el público como los profesionales de la salud pueden visitar el sitio web Nicotine Use Prevention and Control.
---
Contacto con los Medios
Estaríamos encantados de proporcionar información adicional sobre esta nota de prensa. Simplemente póngase en contacto Paul Rhien al 505-470-2290 (oficina) con sus preguntas.
---
English Version
In an effort to make our news releases more accessible, we also have an English version of this article available. Please click the link below to access the translation.