Lynn Gallagher Confirmed as Cabinet Secretary
---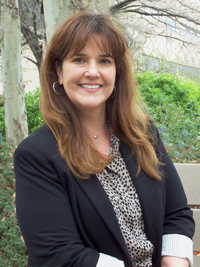 Today, the New Mexico State Senate voted unanimously to confirm Lynn Gallagher as Cabinet Secretary for the New Mexico Department of Health (NMDOH). Gallagher was appointed as Secretary Designate by Governor Susana Martinez following the passing of Secretary Retta Ward in March 2016.
Prior to her appointment, Gallagher served as Deputy Secretary of NMDOH since 2013 and as General Counsel for the Aging and Long-Term Services Department.
"Lynn is a dedicated public servant who demonstrates strong leadership and dedication to improving the health of New Mexicans," Governor Martinez said. "Lynn is passionate about making New Mexico a better and healthier place, and I am confident in her abilities to lead our largest state agency."
Among the many public health priorities, Secretary Gallagher is committed to addressing substance misuse, teen births, diabetes and obesity. The Department continues to make important progress in improving health outcomes in New Mexico. For example, births to teens ages 15 to 17 have declined and are now at their lowest point in many decades. Through tobacco cessation programs, cigarette smoking among adolescents has declined to nearly one in ten, the lowest rate ever measured in the state. And New Mexico's childhood obesity rate continues to trend downward, as many other US states have experienced increases.
Under Gallagher's leadership, the Department is strengthening community partnerships and engagement in health initiatives. She has also lead efforts to make public health programming more sustainable.
Prior to her career in public service, Gallagher lived in New York City working for US Bank in the wealth management, corporate and municipal bond market fields. She also worked for the Home Shopping Network in Florida providing state and federal compliance and contract management. She returned to New Mexico in 2009 where she entered private practice for a short time.
Gallagher was born and raised in Truth or Consequences. She holds a Bachelor of Arts in Political Science from the State University of New York at Stony Brook and a Juris Doctor from Nova Southeastern University in Fort Lauderdale, Florida.
---
Media Contact
We would be happy to provide additional information about this press release. Simply contact Paul Rhien at 505-470-2290 (Office) with your questions.
---
Versión en Español
En un esfuerzo para hacer que nuestros comunicados de prensa sean más accesibles, también tenemos disponibles una versión en español. Por favor presione el enlace de abajo para acceder a la traducción.