Sierra County Public Health Office Now Issuing Birth Certificates
---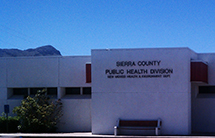 The The New Mexico Department of Health's Sierra County Public Health Office is now issuing birth certificates at the office on a weekly basis.
The office, located at 201 East 4th Street in Truth or Consequences, NM will provide birth certificates every Wednesday from 8:00-11:30 a.m. and 1:00-4:00 p.m.
To get your birth certificate, you'll need to provide several required documents to prove your identity and age. See the List of Acceptable Documents for Obtaining a Birth Record for details. Applicants will need a valid government issued ID for transactions. Cost for record searches is $10.00 in cash, money order, or certified check. No debit cards, credit cards or personal checks accepted.
For more information on birth certificate issuance and availability in Sierra County, call the Sierra County Public Health Office at 575-894-2716.
---
Media Contact
We would be happy to provide additional information about this press release. Simply contact David Morgan at 575-528-5197 (Office) or 575-649-0754 (Mobile) with your questions.
---
Versión en Español
En un esfuerzo para hacer que nuestros comunicados de prensa sean más accesibles, también tenemos disponibles una versión en español. Por favor presione el enlace de abajo para acceder a la traducción.
La oficina de salud pública del condado de Sierra está emitiendo certificados de nacimiento