La oficina de salud pública del condado de Sierra está emitiendo certificados de nacimiento
---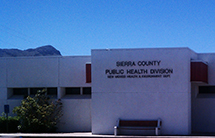 La oficina de salud pública del condado de Sierra del Departamento de Salud de Nuevo México está emitiendo certificados de nacimiento semanalmente.
La oficina, ubicada en 201 East 4th Street en Truth or Consequences, NM, proporcionará certificados de nacimiento todos los miércoles de 8: 00 a.m. a 11: 30 a.m. y de 1: 00 p.m. a 4: 00 p.m.
Para obtener su certificado de nacimiento, usted deberá proporcionar varios documentos necesarios para probar su identidad y su edad. Vea la lista de documentos aceptables para obtener un acta de nacimiento, List of Acceptable Documents for Obtaining a Birth Record, para más detalles. Los solicitantes necesitarán llevar una identificación válida emitida por el gobierno para hacer las transacciones. El costo de las búsquedas de registros es de 10.00 dólares en efectivo, giro postal o cheque certificado. No se aceptan tarjetas de débito, ni tarjetas de crédito o cheques personales.
Para más información sobre la emisión y disponibilidad de certificados de nacimiento en el condado de Sierra, llame a la Oficina de Salud Pública del Condado de Sierra al 575-894-2716.
---
Contacto con los Medios
Estaríamos encantados de proporcionar información adicional sobre esta nota de prensa. Simplemente póngase en contacto David Morgan al 575-528-5197 (oficina) o 575-649-0754 (móvil) con sus preguntas.
---
English Version
In an effort to make our news releases more accessible, we also have an English version of this article available. Please click the link below to access the translation.
Sierra County Public Health Office Now Issuing Birth Certificates