Department of Health Celebrates Lab Professionals
---
Medical Laboratory Professionals Week is April 22-28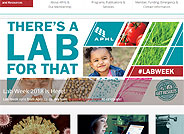 The New Mexico Department of Health (NMDOH) recognizes 'Medical Laboratory Professionals Week' and celebrates the contributions of dedicated lab professionals and pathologists who play a vital role in protecting public health and safety across the state.
"This Lab Week, we express our appreciation to our laboratory professionals for their exceptional efforts and behind-the-scenes work essential to safeguarding public health in New Mexico," said NMDOH Cabinet Secretary Lynn Gallagher. "We also take this important opportunity to increase awareness of the importance of public health and environmental laboratories."
The NMDOH Scientific Laboratory Division (SLD) is the sole consolidated public health laboratory for clinical, environmental, and toxicology testing in the state. Equipped with sophisticated instrumentation and staffed by highly trained scientists, SLD offers a broad scope of services, including:
Infectious disease surveillance to help determine the risk to a community.
Animal testing to diagnose, monitor, control, and eradicate emerging diseases among animals.
Environmental health to ensure the safety of water, soil and air from chemical, biological or radiological agents or other contaminants.
Food testing monitoring for outbreaks of foodborne diseases.
Toxicology screening for alcohol and drugs in DWI criminal cases and autopsy cases.
Emergency response or preparedness to respond to intentional attacks, natural disasters, disease outbreaks and accidents involving hazardous substances.
Over the course of a year, lab professionals at SLD perform more than 200,000 vital tests on nearly 70,000 samples.
SLD is accredited and certified by national accrediting organizations, including College of American Pathologists, US Environmental Protection Agency, US Food and Drug Administration, and American Board of Forensic Toxicology.
To learn more about Medical Laboratory Professionals Week or to learn more about public health laboratories, visit the Public Health Laboratories page of the Association of Public Health Laboratories website.
---
Media Contact
We would be happy to provide additional information about this press release. Simply contact Paul Rhien at 505-470-2290 (Office) with your questions.
---
Versión en Español
En un esfuerzo para hacer que nuestros comunicados de prensa sean más accesibles, también tenemos disponibles una versión en español. Por favor presione el enlace de abajo para acceder a la traducción.
El Departamento de Salud Celebra a los Profesionales de Laboratorio