El Departamento de Salud Celebra a los Profesionales de Laboratorio
---
La Semana de los Profesionales de Laboratorio Médico es del 22 al 28 de abril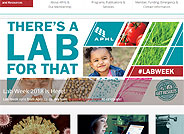 El Departamento de Salud de Nuevo México (NMDOH) reconoce la 'Semana de los Profesionales de Laboratorio Médico' y celebra las contribuciones de los profesionales y patólogos dedicados quienes juegan un papel vital en la salud pública y seguridad a través del estado.
"En la Semana de Laboratorio, expresamos nuestro agradecimiento a los profesionales de laboratorio for sus esfuerzos excepcionales y trabajo detrás del escenario salvaguardando la salud pública en Nuevo México," dijo la Secretaria del Gabinete de Salud Lynn Gallagher. "También tomamos esta oportunidad para aumentar la conciencia sobre la importancia de la salud pública y laboratorios del medio ambiente."
La División de Laboratorios Científicos NMDOH (SLD) es el único laboratorio de salud pública en el estado consolidado para pruebas clínicas, del medio ambiente, y toxicología. Equipado con instrumentación sofisticada y personal científico altamente entrenado, SLD ofrece un alcance amplio de servicios, incluyendo:
Vigilancia de enfermedades infecciosas para ayudar a determinar el riesgo en una comunidad.
Pruebas en animales para monitorear, controlar, y erradicar enfermedades que surgen en animales.
Salud ambiental para asegurar la seguridad del agua, suelo y aire, de agentes químicos, biológicos, radiológicos u otros contaminantes.
Pruebas en alimentos monitoreando brotes de enfermedades transmitidas por alimentos.
Examen de toxicología de alcohol y drogas en casos criminales DWI y casos de autopsia.
Respuesta a emergencias o preparación para responder a ataques intencionales, desastres naturales, brotes de enfermedades y accidentes que envuelven sustancias peligrosas.
En el transcurso de un año, los profesionales del laboratorio SLD realizan más de 200,000 pruebas vitales en casi 70,000 muestras.
SLD está acreditado y certificado por organizaciones de acreditación nacional, incluyendo el Colegio de Patólogos Americanos, la Agencia de Protección Ambiental de EEUU, la Administración de Alimentos y Drogas de los EEUU, y la Junta Americana de Toxicología Forense.
Para aprender más sobre la Semana de los Profesionales de Laboratorio Médico o sobre los laboratorios de salud pública, visite la página Public Health Laboratories del sitio web de la Asociación de Laboratorios de Salud Pública.
---
Contacto con los Medios
Estaríamos encantados de proporcionar información adicional sobre esta nota de prensa. Simplemente póngase en contacto Paul Rhien al 505-470-2290 (oficina) con sus preguntas.
---
English Version
In an effort to make our news releases more accessible, we also have an English version of this article available. Please click the link below to access the translation.