Bordetella Pertussis Epidemiology Program
Pertussis, or whooping cough, is on the rise in New Mexico. Anyone can get pertussis and, in fact, increases in disease are occurring in all age groups. But babies who get pertussis are the group at greatest risk of complications, including pneumonia, seizures, brain damage and death.
---
Table of Contents
---
New Mexico Families
Whooping cough disease (also called pertussis) causes fits of coughing that in some persons make it hard to breathe. Cases of whooping cough (pertussis) are on the rise and young infants are the most vulnerable to severe disease and possible complications. Many are hospitalized every year and some have died.
Circle Your Baby with Protection
Whooping cough shots safely prevent the disease. But, your new baby is too young to get the shot, and is at risk for getting the disease from others. To protect your baby, make sure that these people are up-to-date on their whooping cough shots:
Anyone who lives with your baby
Anyone who cares for your baby
Anyone who will be around your baby
Protection from the disease fades with time. Make sure anyone 10 years of age or older get a booster shot, called Tdap, at least two weeks before they have contact with your baby.
Everyone Around a Baby Needs Protection
Babies most often catch whooping cough from a family member. By protecting yourself from the disease, you also protect your baby. Ask your doctor for a Tdap shot. You can get it:
Moms to be: Before you are pregnant
Expecting mothers: After you have been pregnant 20 weeks
New mothers: After giving birth
If you have not gotten your Tdap shot yet, get one before leaving the hospital with your new baby. It's safe to get a Tdap shot while breastfeeding. If you do not have a prenatal or primary care provider, contact your local Public Health Offices for assistance.
Video de Conciencia de la Tos Ferina
Publications
---
Frequently Asked Questions
What is Pertussis?
Pertussis, also known as whooping cough, is a highly contagious respiratory disease. It is caused by the bacterium Bordetella pertussis.
What are the symptoms of pertussis infection?
Symptoms usually appear 4 to 21 days after exposure to someone with the illness. The symptoms of pertussis occur in three stages.
The first stage begins like a cold, with a runny nose, sneezing, mild fever and cough. The cough may be mild at first but soon gets worse.
The second stage includes uncontrolled coughing or coughing spasms followed by a whooping noise when the person breathes in air. During these severe coughing spells, a person may vomit, or their lips or face may look blue from a lack of oxygen. The infected person may appear well between coughing spells. This stage may last several weeks.
The third stage is the last stage where the cough slowly begins to disappear. This stage may also last for several weeks.
How is pertussis spread?
The bacterium that causes pertussis is found in the nose and throat of infected people. These bacteria spread through the air in droplets produced when an infected person sneezes and/or coughs. Persons in the early stage of illness are the most contagious.
How long are people contagious?
After five days of the proper antibiotics, people are no longer contagious. If a person does not take antibiotics, s/he is contagious for 21 days after the onset of the coughing spasms.
Who gets pertussis?
Pertussis can occur at any age, but vaccination lowers the risk. It most commonly occurs in very young children who have not been vaccinated. Older children and adults may also get pertussis, but usually a milder form of the illness.
What treatment is available for people with pertussis?
Antibiotics will shorten the length of time the person is contagious and the length of time the illness can be spread. If started in the early stage of the disease, antibiotics may make the illness less severe. However, even with the antibiotics, people may cough for many weeks.
Do infected people need to be kept home from school, work or daycare?
People sick with a cough should be kept home until they have been treated with antibiotics for at least five days and are well enough to return to school, work or daycare.
How can I protect myself and my family from getting pertussis?
If you are a household member or high-risk close contact of a person with pertussis, take the proper preventive antibiotics.
Keep up to date on vaccinations. Pertussis-containing vaccine is given at 2, 4, 6, and 12 18 months of age and when a child enters school. Persons 11-18 years of age should receive a single booster dose of pertussis vaccine, preferably at 11-12 years of age. All adults should have a Tdap booster if they haven't had one.
Pregnant women need a Tdap at each pregnancy, ideally between the 27th and 36th weeks of pregnancy.
Keep infants away from people who are sick. Cover your cough and wash your hands frequently if you are coughing or sneezing. See your healthcare provider right away if you develop symptoms.
---
Healthcare Professionals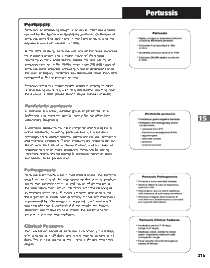 Pertussis, or whooping cough, is an acute infectious disease caused by the bacterium Bordetella pertussis. Outbreaks of pertussis were first described in the 16th century, and the organism was first isolated in 1906.
In the 20th century, pertussis was one of the most common childhood diseases and a major cause of childhood mortality in the United States. Before the availability of pertussis vaccine in the 1940s, more than 200,000 cases of pertussis were reported annually. Since widespread use of the vaccine began, incidence has decreased more than 80% compared with the pre-vaccine era.
Pertussis remains a major health problem among children in developing countries, with 195,000 deaths resulting from the disease in 2008 (World Health Organization estimate).
Bordetella Pertussis
B. pertussis is a small, aerobic gram-negative rod. It is fastidious and requires special media for isolation (see Laboratory Diagnosis).
B. pertussis produces multiple antigenic and biologically active products, including pertussis toxin, filamentous hemagglutinin, agglutinogens, adenylate cyclase, pertactin, and tracheal cytotoxin. These products are responsible for the clinical features of pertussis disease, and an immune response to one or more produces immunity following infection; however, immunity following B. pertussis infection does not appear to be permanent.
Pathogenesis
Pertussis is primarily a toxin-mediated disease. The bacteria attach to the cilia of the respiratory epithelial cells, produce toxins that paralyze the cilia, and cause inflammation of the respiratory tract, which interferes with the clearing of pulmonary secretions. Pertussis antigens appear to allow the organism to evade host defenses, in that lymphocytosis is promoted but chemotaxis is impaired. Until recently it was thought that B. pertussis did not invade the tissues. However, recent studies have shown the bacteria to be present in alveolar macrophages.
Clinical Features
The incubation period of pertussis is commonly 7–10 days, with a range of 4–21 days, and rarely may be as long as 42 days. The clinical course of the illness is divided into three stages.
Handouts for Patients
Publications
Resources
---
Research Community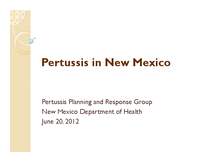 Pertussis is nationally-notifiable and cases should be reported to the appropriate health department. Pertussis cases are reported by states to CDC through the Centers for Disease Control and Prevention (CDC). Although many pertussis cases are not diagnosed and therefore not reported, the surveillance system is useful for monitoring epidemiologic trends. The limitations of laboratory diagnostics make the clinical case definition essential to pertussis surveillance. It is important to determine duration of cough — specifically whether it lasts 14 days or longer — in order to determine if a person's illness meets the definition of a clinical case.
Please see our Pertussis in New Mexico Presentation for a data overview.
Clinical Case Definition
A cough illness lasting at least 2 weeks with one of the following: paroxysms of coughing, inspiratory "whoop", or posttussive vomiting, without other apparent cause (as reported by a health professional).
This clinical case definition is appropriate for endemic or sporadic cases. In outbreak settings, a case may be defined as a cough illness lasting at least 2 weeks (as reported by a health professional).
Laboratory Criteria for Diagnosis
Isolation of Bordetella pertussis from clinical specimen
Positive polymerase chain reaction (PCR) for B. pertussis
Because direct fluorescent antibody testing of nasopharyngeal secretions has been demonstrated in some studies to have low sensitivity and variable specificity, such testing should not be relied on as a criterion for laboratory confirmation. Serologic testing for pertussis is available in some areas but is not standardized and, therefore, should not be relied on as a criterion for laboratory confirmation.
Case Classification
Probable: meets the clinical case definition, is not laboratory confirmed, and is not epidemiologically linked to a laboratory-confirmed case.
Confirmed: a case that is confirmed culture positive and in which an acute cough illness of any duration is present; or a case that meets the clinical case definition and is confirmed by positive PCR; or a case that meets the clinical case definition and is epidemiologically linked directly to a case confirmed by either culture or PCR.
Enhanced Pertussis Surveillance
CDC has partnered with six states (CO, CT, MN, NM, NY, and OR) participating in the Emerging Infections Program (EIP) network to conduct enhanced surveillance of pertussis and other Bordetella species. Enhanced Pertussis Surveillance is characterized by enhanced case ascertainment and augmented data collection that goes beyond what is requested nationally through NNDSS. Participating sites collect clinical isolates and specimens, when available, for further characterization at the CDC Pertussis and Diphtheria Laboratory. Enhanced Pertussis Surveillance sites also provide the infrastructure for conducting pertussis special studies including those aimed at evaluating pertussis prevention and control strategies.
Reporting
Visit the Pertussis Surveillance & Reporting page to learn how to report cases of B. Pertussis.
Surveillance Data
Take a look at the Pertussis Health Data page for detailed surveillance reports.