Department of Health Resources
Links to other websites directly operated by the New Mexico Department of Health.
Older Adult Falls
Death from Falls Injury Data
Death from Falls Injury Data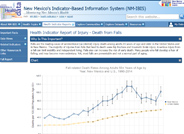 Falls are the leading cause of unintentional (accidental) injury death among adults 65 years of age and older in the United States and in New Mexico. The majority of injuries from falls that lead to death were hip fracture and traumatic brain injury. A serious injury from a fall can limit mobility and independent living. Falls also can increase the risk of early death. Many people who fall develop a fear of falling, and may become more sedentary. Yet, most falls are preventable and not a normal part of aging.