Department of Health Resources
Links to other websites directly operated by the New Mexico Department of Health.
Medical Reserve Corps
Medical Reserve Corps Serves
Medical Reserve Corps Serves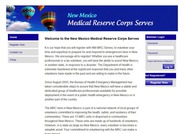 It is our hope that you will register with NM MRC Serves, to volunteer your time and expertise to prepare for and respond to emergencies here in New Mexico. We encourage all to register! Whether you are a healthcare professional or a lay volunteer, you will have the ability to assist New Mexico, or another state, in response to a disaster.